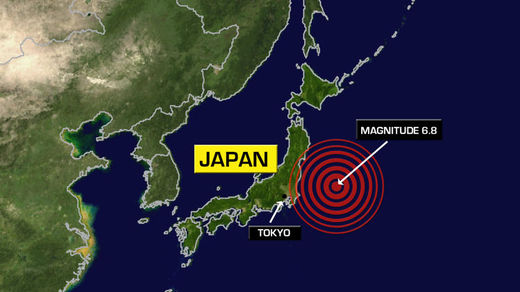 Seismologists said an earthquake that struck near Japan's shuttered Fukushima nuclear site early Saturday
was an aftershock of the tremor that sparked 2011's deadly tsunami, and warned of more to come.
The strong 6.8-magnitude earthquake off the Pacific coast of northeastern Japan caused a minor tsunami in the early hours
, though authorities lifted all weather warnings roughly two hours later.
Seismologist Yasuhiro Yoshida of the Japan Meteorological Agency said it was a delayed tectonic reaction to the 9.0-magnitude quake which left the Fukushima nuclear power plant in a meltdown crisis after the coast was ravaged by monster tidal waves in March 2011.
"There are fears that relatively large earthquakes will occasionally occur in the ocean area where aftershocks of the great earthquake continue," he said.
"The aftershock activity has been steadily declining on a long-term basis. But aftershocks, accompanied by tsunamis, will still occur."
The 2011 disaster killed more than 18,000 people.
Saturday's quake measured up to four on the Japanese scale of seven in terms of intensity, and Yoshida said there was a possibility aftershocks measuring a moderate three on that scale would occur in the next two weeks.