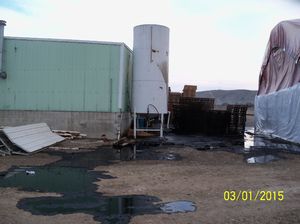 As much as 1,500 gallons of used motor oil leaked from an above-ground storage tank in Washington state into a creek that flows into the Yakima River, vital to the apple-growing state's agricultural hub, officials said on Monday.
The cause of the spill on Sunday from the tank at a former feed lot near Sunnyside, about 170 miles southeast of Seattle, was under investigation.
Department of Ecology spokeswoman Joye Redfield-Wilder said t
he oil posed a threat to otters, waterfowl and fish as well as orchards and other crops in the area.
"In a couple of weeks, the canals will all be full and (farmers) will be watering their crops and their orchards, so we want to get this cleaned up," Redfield-Wilder said.