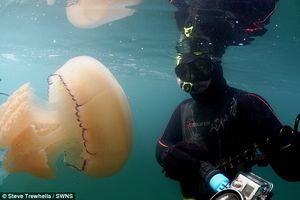 This week's warm weather may have tempted you to take a dip in the UK's usually chilly waters.
And if you had, you wouldn't have been the only one swimming around the coastline.
Billions of jellyfish have appeared in our waters, apparently attracted by the higher sea temperatures.
Hundreds of the barrel jellyfish - each the size of a dustbin lid - have been hauled in by fishermen on the Devon and Cornish coast, with dozens of sightings reported to the authorities.