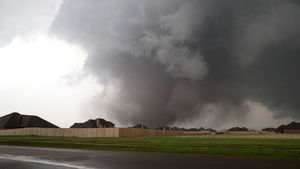 As the displaced residents of the Oklahoma City suburbs came to terms with the devastation around them Monday night pundits were already speculating that the tornado was one of the worst to ever hit the US, a dubious distinction for the newly homeless.
The most destructive twister struck Ellington, Missouri at approximately 1:01 pm on March 18, 1925.The Great Tri-State Tornado traveled through Missouri before entering Illinois and finally dissipating in rural Indiana more than three hours after the vortex was first spotted.
At least 695 people were killed in the Tri-State tornado with another 2,027 injured and $16.5 million in damage (over $1.4 billion in today's dollars). The tornado registered as an F5, the highest possible on the Fujita scale. Unfortunately, like Monday's tragedy in Oklahoma, areas with schools were the worst hit, with nine in all being demolished.