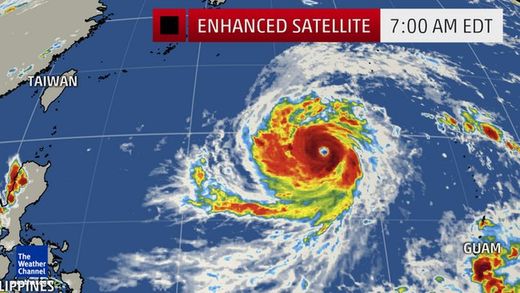 Super Typhoon Soudelor underwent rapid intensification Monday and has become the strongest tropical cyclone on Earth so far in 2015.
Soudelor is expected to continue to track to the west-northwest the next several days over open waters of the western Pacific Ocean.
This track may bring it near Japan's far southwest Ryukyu Islands, including Ishigakijima and Miyakojima, as well as Taiwan and eastern China late this week.
Soudelor is expected to weaken as it approaches these areas, but it may still be a strong, formidable typhoon.
Soudelor is intensifying rapidly over the western Pacific Ocean after raking through Saipan, a U.S. commonwealth in the northern Mariana Islands, Sunday night and early Monday.
Super Typhoon Soudelor became the fifth super typhoon of this year Monday after undergoing a replacement of its eyewall, a process which occurs in all intense tropical cyclones. A super typhoon is defined by sustained wind speeds of at least 150 mph.
According to Monday's 5 p.m. EDT bulletin from the Joint Typhoon Warning Center, Soudelor had strengthened into the equivalent of a Category 5 hurricane with maximum sustained winds of 180 mph (one-minute average) with gusts to 220 mph.
Soudelor has maintained its strength and as of 11 p.m. EDT Monday, Soudelor continues to have maximum sustained winds of 180 mph and some additional strengthening is possible.
Low wind shear and very warm sea surface temperatures have allowed Soudelor to ramp up quickly; the cyclone was just a minimal typhoon 36 hours earlier.