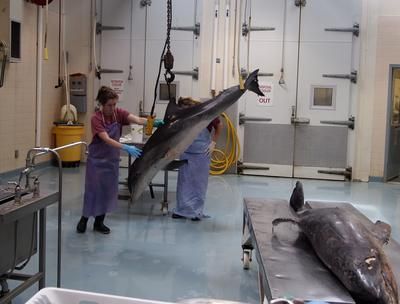 The bottlenose dolphin die-off in the mid-Atlantic isn't over, a stranding expert told me this afternoon.
"It's still ongoing," said Blair Mase, NOAA Southeast region marine mammal stranding coordinator, who is based in Miami.
The migratory stock of dolphins is starting to move north and "we still have dolphins stranding at above-average rates" in South Carolina, North Carolina and Georgia, she said.
In the Florida area, the strandings are "slowing down a little bit, which is good," she said.
According to NOAA Fisheries, the toll of dead bottlenose dolphins from New York to Florida has risen to 1,204 from July 1 to April 6.
That's preliminary data. And the death toll is 62 percent higher than during the last major die-off in 1987-88 and
6.7 times higher
than the 2007 to 2012 norm for July 1 to April 6,
according to calculations.