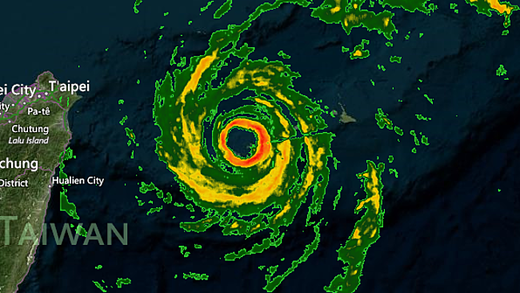 Goni has strengthened back into a powerful typhoon as it bears down on Japan's Ryukyu Islands with mainland Japan the next target.
The eye of Goni was crossing the Yaeyama Islands, the southwestern most Ryukyu Islands, on Sunday evening local time (Sunday morning EDT) with destructive winds and torrential rainfall.
Typhoon Goni Lashes Northern Philippines
After weakening as it lashed the northern Philippines, Goni has since strengthened with its intensity now equal to that of a major hurricane in the Atlantic or eastern Pacific oceans. Goni left 15 people dead, mainly due to landslides, in the Philippines, the
Associated Press
reports.
Within the eyewall of Goni, Ishigakijima recorded sustained winds of 162 kph (101 mph) and a gust to 255 kph (159 mph).
Life-threatening destructive winds in excess of 160 kph (100 mph) will persist across the Yaeyama Islands and nearby Miyako Islands through early Monday morning. Flooding rainfall will top 250 mm (10 inches) as an inundating storm surge further endangers residents.
Goni and the worst of its fury should track just to the west of the rest of the Ryukyu Islands on Monday, but the powerful typhoon will still pass close enough to produce damaging winds of 95 to 130 kph (60 to 80 mph) and rainfall of 75 to 150 mm (3 to 6 inches).