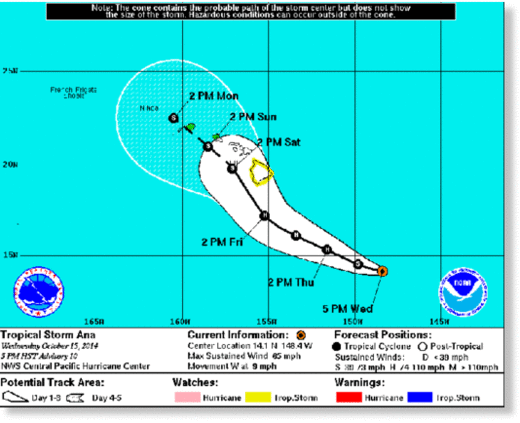 For the first time since 1992, Hawaiians are preparing for the possibility of two tropical systems making landfall in one season. First, it was Iselle, which made landfall on the Big Island back in August. Now, Tropical Storm Ana is approaching the state, threatening to become a hurricane and ready to cause disruptions for residents even if it remains a tropical storm.
"Tropical Storm Ana is currently moving to the west and is expected to turn toward the northwest by Friday, taking it in the direction of the Hawaiian Islands," said weather.com meteorologist
Linda Lam
. "Ana is expected to gradually strengthen and could still become a hurricane. Bands of rain may reach the Big Island as soon as late Friday and large swells are expected to begin to reach Hawaii late Thursday."
As a result, Gov. Neil Abercrombie has declared an emergency for the state, according to the Associated Press. The proclamation will last through Oct. 24, allowing the state to access state and federal resources for preparation and recovery, if needed, the report adds.
Residents on the Big Island and Oahu have been urged to prepare for serious weather conditions that could be life-threatening if the proper precautions aren't taken, KITV.com reports.