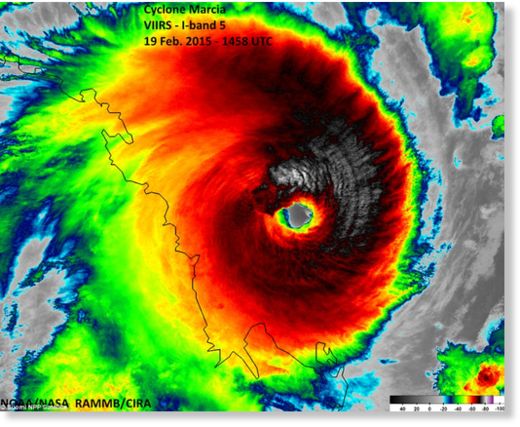 Parts of homes on an island off the coast of central Queensland have started breaking off into the ocean and another 10,000 across the state are without power as the full force of Cyclone Marcia sets in.
Dramatic pictures show the ground eroding away on Great Keppel Island, just east of Queensland's coast, causing three entire homes to collapse as the barricades holding up the structures are swept away.
Winds of up to 200km per hour tore roofs and doors off buildings in the coastal town of Yeppoon as the storm continues to tear down the coast.
At least 10,000 homes in Yeppoon have lost power, and while the Bureau of Meteorology downgraded the cyclone's category, they warned of 'very destructive winds still expected near the centre'.
But as of 5pm on Friday, the weather bureau downgraded Cyclone Marcia to a category 2 system and expected to turn to the south-southeast. It will weaken below cyclone strength on Saturday morning.
Queensland Premier Annastacia Palaszczuk warned the damage could be extremely destructive as she said residents would experience a very 'harrowing and terrifying' couple of hours.