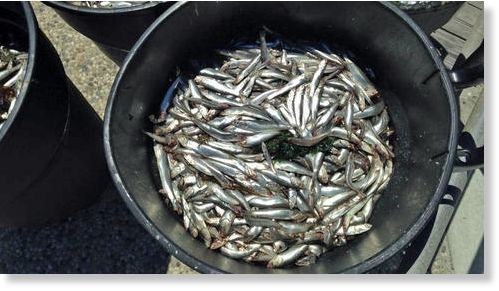 Visitors and residents near Foster City's Gull and Marlin parks may have witnessed a natural phenomenon last weekend as thousands of anchovies died and washed ashore on the lagoon's beaches because their sheer volume depleted the oxygen they needed.
Once city officials noticed the dead fish washing ashore and in the lagoon, which is fed by the Bay, they immediately began to test the water and have since cleaned most of them up, said Public Works Superintendent Mike McElligottt. The quality of the water was safe, however, it did show it was depleted of more oxygen than usual, McElligottt said.
Although the event was unusual for Foster City and hasn't happened in at least the 10 years McElligottt said he's worked for the city,
there is a biological explanation for it.
"This particular incident has not happened. But we have had fish die off about five or six years ago due to a red tide," McElligottt said. "We tested (the lagoon) for dissolved oxygen, it was low in those areas and I didn't realize what was going on until I called the National Marine Fisheries Service."