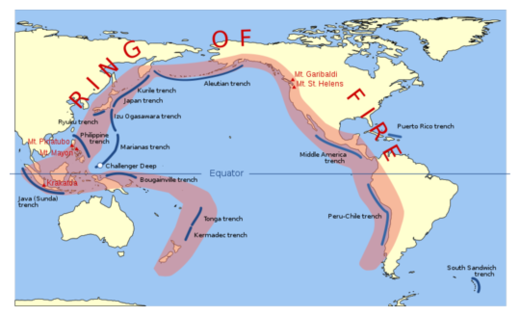 Ten major volcanoes have erupted along the Ring of Fire during the past few months, and the mainstream media in the United States has been strangely silent about this. But this is a very big deal. We are seeing eruptions at some volcanoes that have been dormant for decades. Yes, it is certainly not unusual for two or three major volcanoes along the Ring of Fire to be active at the same time, but what we are witnessing right now is highly unusual. And if the U.S. media is not concerned about this yet, the truth is that they should be. Approximately 90 percent of all earthquakes and approximately 80 percent of all volcanic eruptions occur along the Ring of Fire, and it runs directly up the west coast of the United States. Perhaps if Mt. Rainier in Washington state suddenly exploded or a massive earthquake flattened Los Angeles the mainstream media would wake up. Most Americans have grown very complacent about these things, but right now we are witnessing volcanic activity almost everywhere else along the Ring of Fire. It is only a matter of time before it happens here too.
Sadly, most Americans cannot even tell you what the Ring of Fire is. The following is how
Wikipedia
defines the "Ring of Fire"...
The Ring of Fire is an area where a large number of earthquakes and volcanic eruptions occur in the basin of the Pacific Ocean. In a 40,000 km (25,000 mi) horseshoe shape, it is associated with a nearly continuous series of oceanic trenches, volcanic arcs, and volcanic belts and/or plate movements. It has 452 volcanoes and is home to over 75% of the world's active and dormant volcanoes.
An easy way to think about the Ring of Fire is to imagine a giant red band stretching along the perimeter of the Pacific Ocean.
And yes, that includes the entire west coast of the United States and the entire southern coast of Alaska.