A French journalist has accused President Nicolas Sarkozy of inciting hatred against the media after she was allegedly assaulted at a political rally organised by the ruling UMP party.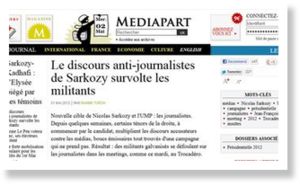 A French journalist has made an official police complaint after allegedly being assaulted on Tuesday by Sarkozy's UMP party supporters.
Marine Turchi, a 29-year-old political reporter for the online news site Mediapart, told Turchi that she had been cornered and surrounded by a "baying mob" chanting "dirty leftist" during a Sarkozy campaign rally in Paris.
"A man grabbed the press badge that was around my neck and held it up shouting that I was a Mediapart journalist," Turchi said on Wednesday. "People all around started chanting 'here they are' and 'dirty leftist'".
"No one came to help, I was genuinely afraid of being violently attacked."
Turchi told FRANCE24 that it was the "umpteenth time" she had been insulted by UMP activists, often older activists in their 50s and 60s.