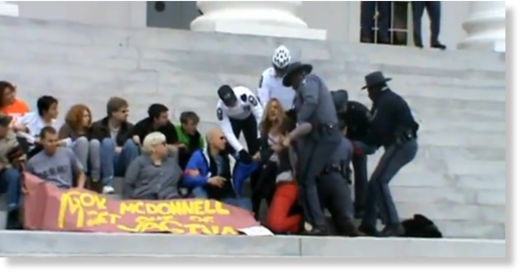 US, Virginia - Thirty-one women's rights demonstrators were arrested Saturday in a state Capitol protest that drew hundreds of people and a police response including officers in riot gear.
The rally was the latest held in opposition to contentious General Assembly bills that have drawn attention far beyond the state, including a measure that would require women to undergo a transabdominal ultrasound before having an abortion.
Some protesters, wearing red armbands and holding signs that included "Gov. McDonnell get out of my vagina," urged the governor to reject the legislation, which is headed to his desk.
Capt. Raymond J. Goodloe of the Division of Capitol Police said 17 women and 14 men were arrested, though representatives of groups involved with the event said they believed more were taken into custody. Goodloe did not have a breakdown on charges, but said those arrested were likely accused of either trespassing or unlawful assembly, both misdemeanors.
The arrests took place after some protesters, who had marched along nearby streets before entering Capitol Square, refused to leave the south steps of the Capitol. They were, in some cases, carried away by police and taken to a bus parked nearby while other officers held protesters at bay with shields.