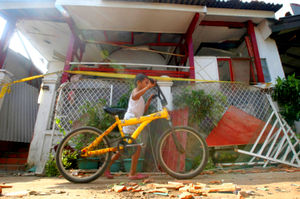 Police and astronomers are investigating Thursday's blast from a falling object that damaged three homes in Duren Sawit, East Jakarta, which witnesses claim was a meteorite strike.
Forensics experts from the police and National Aeronautics and Space Agency (Lapan) investigators are combing the site, with the latter saying that while there was no conclusive proof the damage was caused by a meteorite, it was the most likely explanation.
Police ruled out earlier speculation that the incident was a gas canister exploding.
One house was moderate damage and two adjoining properties suffered minor damage after blast on Jalan Delima II. There were no reported casualties.
Lapan researcher Abdurrahman said no fragments of the projectile had been found but the deep crater in the floor of the house, the residual heat footprint and melted items pointed to a meteorite.
"I suspect the object impacted at high velocity, hit the floor, bounced back and hit the ceiling, then fell back down," he said. "It's extremely difficult to recover the fragments, what with the rubble and broken glass, and it being so dark in here."
Abdurrahman said any suspected meteorite fragment would be taken back to Lapan's headquarters in Bandung for analysis.