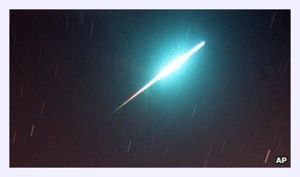 Witnesses across Scotland have described seeing a "giant meteor" streaking across the sky.
The meteor is reported to have broken into a number of pieces and it left bright streaks of light in the sky at about 0540 GMT.
It was spotted in Glasgow, Scotlandwell and Durness.
Douglas Thornton, from Scotlandwell, said: "It was an off-white light with a massive tail behind it... A phenomenal sight."
It is thought the meteor was part of the annual Taurids shower, which lasts from October into November.