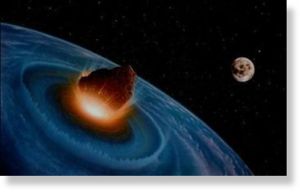 From 'The End', written by Jim Morrison of The Doors

"Of our elaborate plans, the end
Of everything that stands, the end
No safety or surprise, the end
I'll never look into your eyes...again"
The Earth has been a stage where countless scenes have played out from a script that was written by fate. Every form of life will have its time in the sun, until changing conditions allow new species to reign.
When dinosaurs roamed unchallenged, ancestral mammals were insignificant creatures that scurried about in the shadows, biding their time. Then a meteor impact 65 million years ago brought the curtain down on the age of dinosaurs, and opened the door for mammals to thrive and evolve into beings that could reach out for the stars. Scientists have had to accept the fact that such catastrophic impacts have been a regular occurrence in our history.
In our Human world we have created knowledge of chemistry, biology, history, and art. We have dedicated our lives to solving philosophical challenges and attempted to separate right from wrong. But we have perhaps mislead ourselves into believing that these things have enduring substance that will protect us from the realities of the universe. Another player will one day move onto the horizon of humankind, something so deceptively powerful that we can scarcely believe that in the span of a day, everything that we hold so dear could be gone, to disappear like the Gardens of Babylon under the sands of time.