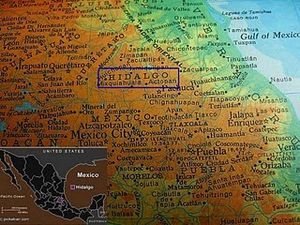 Inexplicata recieved a message yesterday morning from Contributing Editor Ana Luisa Cid regading the collision of an unexplained object in the state of Hidalgo (central Mexico) -- initial excitement over an "extraterrestrial" event was replaced with more conservative comments about "Soviet-era space junk", "meteorites" and even "an explosion in a local mine".
News items received today read thus:
Meteorite allegedly left a hole 30 meters in diameter and caused houses and buildings to shake in five municipalities of Hidalgo and Puebla.

At 18:30 hours on Wednesday, [February 10, 2010] a light accompanied by a powerful rport caused homes and buildings to shake throughout five municipalities in [the states of] Puebla and Hidalgo. The event was attributed to a meteorite impact.