This slow, bright fireball occurred at 2:28 AM MDT over central Colorado. I have not received any witness reports.
Data has been recovered from the following cameras:
*
Cloudbait
(
details
,
video
)
*
Tom Ashcraft's camera
in New Mexico.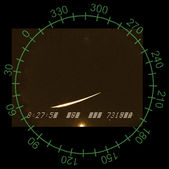 The image at left is from the Cloudbait camera. The meteor produced a long trail, gradually brightening to about magnitude -10 (the Moon, seen at the bottom, is about magnitude -11). Several small flares of light are also seen along the path. The fireball lasted over 5.5 seconds.