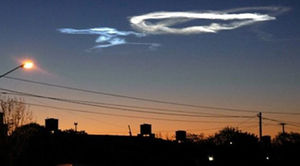 Yesterday afternoon the inhabitants of Mendoza, La Pampa, San Luis, and Cordoba saw a meteorite coming down the sky. It finally desintegrated with a loud explosion before it hit the earth.
The object, which initially scared the residents, was seen yesterday in the General Alvear Department. It could be a meteorite or space junk, but the place where it fell isn't known, according to what the Copernicus Institute said today.
From 18.30 there was a cloud in the sky and the explosion was felt almost by all people, asaid Julio Alcaraz, police officer of Santa Isabel, a town located 320 kilometers west of Santa Rosa and 40 miles south of the border with Mendoza.
The chief of the Copernicus Institute, Jaime Garcia, said that "by the color, it would apparently be a meteorite." He added that "the meteorite's location is unknown but according to the information collected it wouldn't have landed on Mendoza".