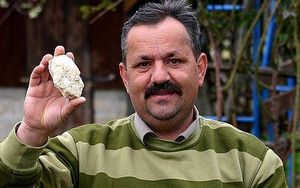 Radivoke Lajic, 50, said that his house being hit by rocks from space was the result of an extraterrestrial grudge.
"I am obviously being targeted by extraterrestrials," he said.
"I don't know what I have done to annoy them but there is no other explanation that makes sense.
"The chance of being hit by a meteorite is so small that getting hit six times has to be deliberate."
Mr Lajic, who lives in the village of Gornji Lajici in northern Bosnia, near Prijedor, said that the meteorite strikes always happen when it is raining.
The first meteorite struck his house in November 2007.
Scientists at Belgrade University have confirmed that the rocks are all meteorites.