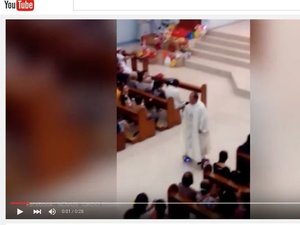 A priest in the Philippines was suspended on Tuesday for riding a hoverboard up an aisle during Christmas Eve Mass.
One of the priests at the Diocese of San Pablo sang a Christmas song, while going up and down the aisles of the church on a hoverboard, as a way to greet the congregation on Dec. 24,
The Roman Catholic Diocese of San Pablo said in a statement.
Members of the congregation took a handful of videos of the incident, many of which have thousands of views on YouTube. In the videos, people in the congregation appear to clap as the priest begins his journey down the aisle.