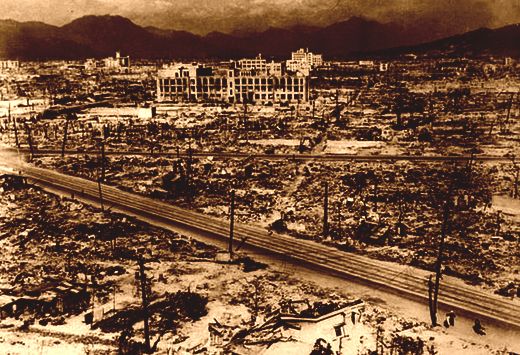 The design for the first atomic bomb was frighteningly simple: One lump of a special kind of uranium, the projectile, was fired at a very high speed into another lump of that same rare uranium, the target. When the two collided, they began a nuclear chain reaction, and it was only a tiny fraction of a second before the bomb exploded,
forever splitting history between the time before the atomic bomb and the time after.
At 17 seconds past 8:15 a.m. on August 6, 1945, the Enola Gay released the bomb from a height of 31,600 feet above the target, a T-shaped bridge in the center of Hiroshima, Japan.

The morning was cloudless, as the weather plane sent to scout for the Enola Gay

had reported in the hour before. If the weather had been poor, the plane would have set its course to one of the two alternate targets. As the bomb fell, a schoolboy closed his eyes and began to count as his friends hid along the way to school.



"I think we had all concluded that it was a dud," Theodore Van Kirk, navigator of the Enola Gay,

would later recall of the 43 seconds before the plane's cabin filled with the blinding white light of the bomb's explosion 1,890 feet above the target.
Going critical
A chain reaction begins when a stray neutron thrown from the nucleus of an atom runs into another nucleus, causing that atom to split apart, dislodging a couple more neutrons to collide with two more atoms, which break into four pieces and so on. When atoms break apart, some of their mass (the "m" in the equation E=mc²) is converted to energy, an enormous "E" of fire and heat and light and wind.