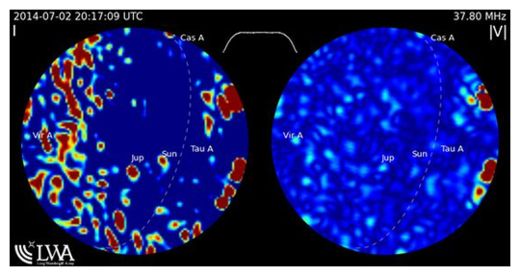 Streaking across the sky at more than 50 kilometers per second at atmospheric heights of more than a 90 kilometers high, researchers using the first station of University of New Mexico's Long Wavelength Array (LWA) saw something new that had never been seen before; something that could hold a treasure trove of new information in the world of physics.
The first station of the LWA, known as LWA1, is a unique telescope that consists of a collection of 256 dipoles combined into one massive array with a collective-area of a 100-meter dish. The LWA1, is a highly sensitive telescope that can create images of the entire sky. It allows researchers to keep eyes on the whole sky day and night, probing a relatively unexplored region of the electromagnetic spectrum.
Within six months of turning LWA1 on, UNM Department of Physics Professor Greg Taylor and his team got the all sky imaging up and running. Shortly thereafter, they started to search for transients, brief pulses of radio waves coming from the sky. Ken Obenberger, a UNM graduate student, and colleagues searched for transients in more than 11,000 hours of all-sky images from the LWA at frequencies between 25 and 75 MHz. In this data he identified 49 long (30 seconds or longer) transients.