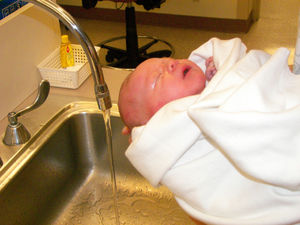 By the middle of 2014, the prospect of altering DNA to produce a genetically-modified human could move from science fiction to science reality. At some point between now and July, the UK parliament is likely to vote on whether a new form of
in vitro fertilization
(IVF) - involving DNA from three parents - becomes legally available to couples. If it passes, the law would be the first to allow pre-birth human-DNA modification, and another door to the future will open.
The procedure involves replacing
mitochondrial DNA
(mtDNA) to avoid destructive
cell mutations
. Mitochondria are the power plants of human cells that convert energy from food into what our cells need to function, and they carry their own DNA apart from the nuclear DNA in our chromosomes where most of our genetic information is stored. Only the mother passes on mtDNA to the child, and it occasionally contains mutations that can lead to serious problems.