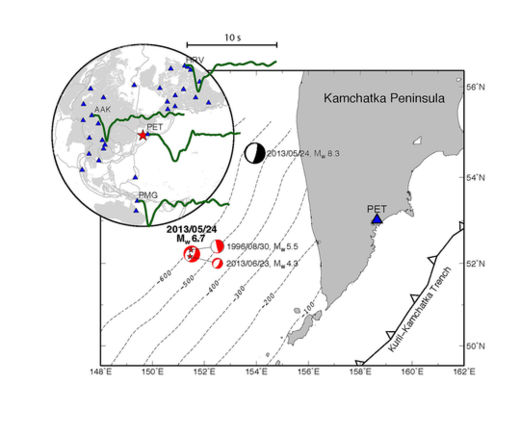 One of the world's deepest earthquakes was also a rare supersonic quake, upending ideas about where these unusual earthquakes strike.
Only six supersonic (or supershear) earthquakes have ever been identified, all in the last 15 years. Until now, they all showed similar features, occurring relatively near the Earth's surface and on the same kind of fault. But last year, a remarkably super-fast and super-deep earthquake hit below Russia's Kamchatka Peninsula, breaking the pattern.
"This was very surprising," said Zhongwen Zhan, lead author of the study, published today (July 10) in the journal
Science
. "It's not only deep, it's supershear, and it's also quite small."
The weird earthquake struck May 24, 2013, about 398 miles (642 kilometers) beneath the Sea of Okhotsk offshore of the Kamchatka Peninsula. The magnitude-6.7 quake was an aftershock to the
largest deep earthquake
on record, a magnitude 8.3 that also hit May 24.