London: A saucer-shaped flying object, believed to be a spaceship, has been photographed over Cornwall in South-west England.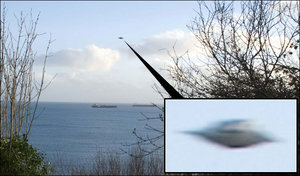 ©Kelvin Barbery
Kelvin's photo and, inset, enlarged view of 'flying saucer'
Kelvin Barbery, a facilities manager for schools, clicked the picture of the mystery object from a coastal path between Swanpool and Maenporth, near Falmouth.
He revealed that he did not even see the UFO at the time of clicking the picture, as he was just trying to click a sea view.