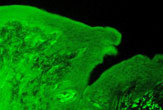 ©Michael Tordoff
A section of a rat tongue stained for the calcium-sensing receptor, CaSR, which is in the central, bright green onion-shaped taste bud.
Here's the new taste sensation - your tongue might be able to taste calcium.
The capability to taste calcium has now been discovered in mice. With these rodents and humans sharing many of the same genes, the new finding suggests that people might also have such a taste.