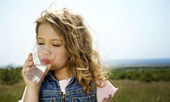 Government drive to add the chemical to water supplies hinges on Hampshire test case.
Opponents of the mass fluoridation of water will next week try to stop a government drive to add the chemical to supplies used by millions of people in England and Wales.
The verdict on a small scheme covering 200,000 people in Southampton and southwest Hampshire will help shape public attitudes to far bigger proposals countrywide, and the South Central Strategic Health Authority's decision could potentially make ministers rethink plans to implement fluoridation. Authorities in northwest England are among those next in line to bring forward proposals.