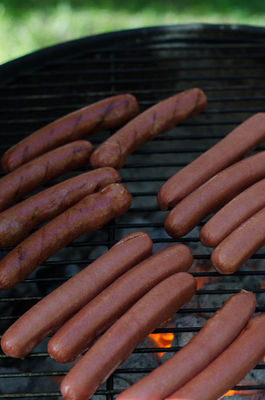 I will always hold a soft spot in my heart for the humble and much-maligned hot dog. A staple of my childhood, especially the summers spent on Long Island with my grandparents. Occasionally, my grandmother would take us by train into the city to shop, have lunch and see a show. As we'd pass the street food vendors, I'd beg her for a hot dog - steaming, and piled into a doughy white bun.
She'd invariably give me a curt, simple, and firm, "No." She didn't trust the meat. Instead, she'd take me by the hand, and we'd go home. If I were lucky, she'd pick up a package of hot dogs she
did
trust (and they were few and far between), boiling them in water spiked with yellow mustard before serving them for dinner, a technique I still use at home.
So, thirty years later, I find myself with just as much concern as my grandmother. I generally say no to hot dogs for my little boy because I
just don't trust the meat
. Of course, now I work as an advisor to
Applegate
so I tend to purchase their meats as well as the meat from regional ranchers and farmers who raise their animals on pasture.
So now when he asks me for a hot dog, I sit down with him and decode the hot dog ingredients.
So What's In Your Hot Dog?