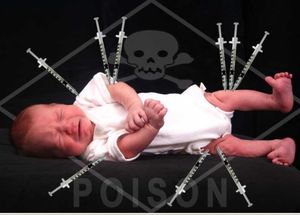 Cruelty toward babies starts at birth. It really starts before birth but that is another tale. Many parents have heard horror stories, and have serious doubts about vaccinating. Even that first injection of
vitamin K is not without risk and danger
. This article is for parents in the situation where they are forced into a corner for one of many reasons and feel like they have to vaccinate their children.
Often one parent is against and the other for vaccination. In the context of Humane Pediatrics it is strongly advised to avoid vaccines altogether so as to avoid the threatening edifice of medical and health complications that can stem from them. It should be obvious to the humane among us that it is also to avoid a type of suffering we should not wish on our dearest enemies - that of having to deal with a
vaccine-damaged child
.
This is also for adults who might have to take a vaccination to travel or for healthcare workers in hospitals and others in the military who are given little to no choice. You could find yourself someday with the army at the door and you better roll up your sleeve real quick and try to smile while you are freaking out.