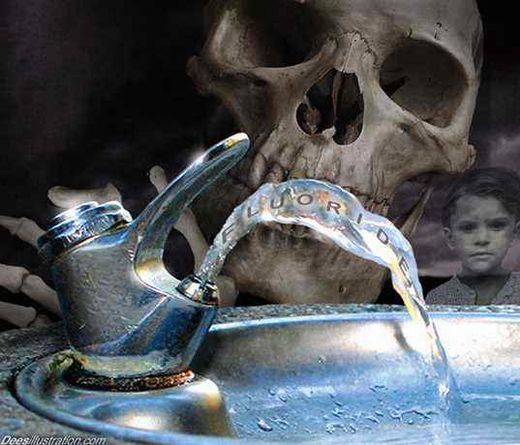 Fluoride is a toxic drug linked with an array of potentially serious health problems. Most recently, research linking fluoridated water consumption to thyroid dysfunction received attention in both British and American media.1,2,3,4

Evidence also suggests it may contribute to or exacerbate behavioral problems such as ADHD, by way of pineal gland calcification.

Despite irrefutable evidence of harm, the United States still adds fluoride to municipal water supplies reaching nearly 211 million Americans. As of 2012, more than 67 percent of Americans receive fluoridated water.5

Of those, more than 11 million people receive fluoride at or above what has been deemed the "optimal" level, according to the US Centers for Disease Control and Prevention (CDC).

In the UK, about 6 million Britons receive water with added fluoride. Meanwhile, a growing number of countries—including Germany, Sweden, Japan, the Netherlands, Finland, and Israel6—have ceased this hazardous practice.7
Water Fluoridation Promotes Thyroid Dysfunction, Study Warns
Water fluoridation has long been promoted as a safe and effective way to improve dental health—a claim that in reality has no firm basis in science. On the contrary, the evidence clearly suggests there are wide-ranging health hazards associated with fluoride exposure.

British researchers are now warning that 15,000 people may be needlessly afflicted with hypothyroidism in the UK as a result of drinking fluoridated water.8

In areas where fluoride levels in the water registered above 0.3 mg/l, the risk of having a high rate of hypothyroidism was 37 percent greater compared to areas that do not fluoridate. As explained by Vice.com9 and in the featured video above:

"The key to a healthy thyroid is iodine, which is generally absorbed through the blood and stored and regulated by the body in the thyroid gland...

But because fluoride is more electronegative than iodine, it displaces it in the body, disrupting thyroid function and subsequently impacting hormone levels that keep metabolism in check.

Numerous studies (including one from just last year10) have previously confirmed fluoride's ability to promote and exacerbate iodine deficiency11..."