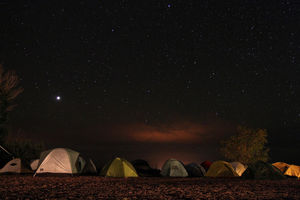 One week of camping outdoors and eschewing all man-made light is enough to reset a person's body clock to its natural sleep rhythms, a new
study
has found.
Our increased use of electrical light, and reduced exposure to natural light, caused modern humans to stray from our natural circadian rhythms or sleep patterns, and may be a contributor to poor quality sleep.
The findings, published in
Current Biology
, show that humans' internal biological clocks will synchronise to a natural, midsummer light-dark cycle if the opportunity arises. A midsummer light-dark cycle in Colorado, in the US where the study took place, is 14 hours and 40 minutes of light, 9 hours and 20 minutes of darkness in a 24 hour period.
Relying on electrical light after sunset contributes to late sleep schedules, which disturbs natural circadian rhythms and can leave us feeling not well rested.
The new study, conducted by Dr. Kenneth Wright and colleagues from the University of Colorado in the US, found that increased exposure to sunlight, as opposed to largely relying on electric light, shifted the internal clock earlier, which could help reduce the "physiological, cognitive and health consequences of circadian disruption."