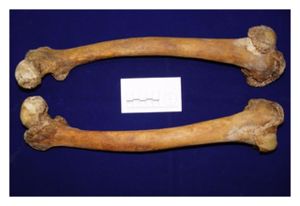 Human bones can serve as a historical record of their owners' lifestyles, and now ancient human skeletons from Central Europe may reveal how humans shifted from rugged nomads to plow-pushers, researchers say.
Leg bones of people living in the Danube River valley became weaker after 5,300 B.C., around the time when agriculture emerged in Europe, a new study suggests. The decline was most noticeable in men's bones, but both sexes lost bone strength.
The bones show "it was initially men who were performing the majority of high-mobility tasks, probably associated with tending crops and livestock," study researcher Alison Macintosh, an anthropologist at Cambridge University in England, said in a statement.
But with the rise of technological innovation, tasks became less strenuous and people became less mobile, so leg bones got weaker, said Macintosh, who will present her findings at a meeting of the American Association of Physical Anthropologists in Calgary, Alberta, this week.