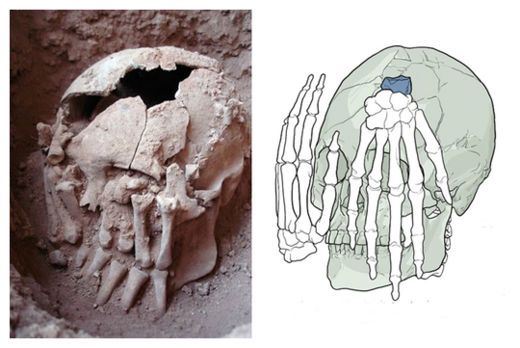 An international team of researchers has unearthed the oldest case of decapitation in the New World —
a 9,000-year-old skull buried in Brazil with two severed hands covering the face.
The grave was excavated in 2007 in the rock shelter of Lapa do Santo, an archaeological site which has yielded 26 human burials dating to the early Holocene period. It consisted of a circular pit covered with five limestone cobbles.
There, the archaeologists found a skull with the palms of severed hands arranged over the face in opposite direction.
The right hand was laid over the left side of the face with the fingers pointing to the chin, while the left hand covered the right side of the face, the fingers pointing to the forehead.
A jaw and the first six cervical vertebrae, all bearing v-shaped cut marks, completed the assemblage.
"Using cranial morphology and tooth wear, this individual was estimated to be a young adult male," André Strauss from the Max Planck Institute for Evolutionary Anthropology, Germany and colleagues wrote in the open-access journal
PLOS ONE
.