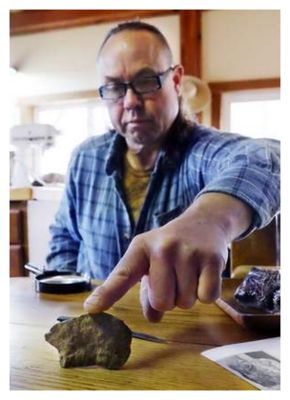 Concentric stone circles near rocks weighing more than a ton - apparently aligned to mark solar events - are believed to be part of a Paleo-Indian site in the Blue Ridge Mountains of Clarke County that an expert has dated to about 10,000 B.C.
The complex along Spout Run has 15 above-ground stone features. Though still under study, it could be one of the oldest man-made structures in North America still in existence and twice as old as England's Stonehenge.
Christ and Rene White, who own the property near Bluemont and made the initial discovery, credit their Native American heritage for the finding.
When Chris White, who is of Cherokee descent, was building a home for himself and his wife - who is a Lumbee Indian - on the wooded land, he said he often took a break to walk by Spout Run, which tumbles downhill in its rocky bed across his land.
Something told him that the area was important, and he decided to create a stone medicine wheel on the 20-acre property below Bears Den Trail Center - a lodge owned by the Appalachian Trail Conservancy.
To his surprise, he realized the area across the stream already had a stone circle. In fact, it had several concentric stone circles.
For a professional opinion, the Whites contacted retired archaeologist Jack Hranicky of Alexandria, who had investigated five other Paleo-Indian sites in Virginia.
It was Hranicky who realized that the rocks in and outside the circles aligned with special features on the Blue Ridge.
A line from a center rock, over a specific boundary rock, intersects the feature called Bears Den Rocks on the mountain. Standing on that center rock, looking northeast, a viewer can see the sun rise over Bears Den on the day of the summer solstice in June.
Moving around the circle, another set of rocks points to Eagle Rock on the Blue Ridge, and also to sunrise on the day of the spring and fall equinox in March and September.