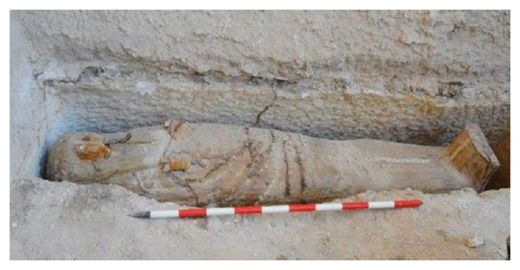 The sarcophagus of
Ankh-f-n-khonsu,
a high priest of ancient Egyptian god Amun Ra, has been unearthed in the west bank of Luxor, Antiquities Minister Mamdouh al Damaty announced Thursday.
The sarcophagus, which dates back to the 22
nd
Dynasty (943B.C-716B.C.,) was found in the tomb of
Amenhotep-Huy
, who served as Egypt's viceroy and vizier during the reign of Pharaoh Amenhotep III (1391 B.C. - 1353 B.C.)
"The sarcophagus is made of wood and covered with a layer of plaster. It represents the deceased wearing a wig and crown with flowers and colorful ribbons along with ceremonial beard and a necklace adorning his chest," Sultan Eid, Director of Upper Egypt Antiquities Department said in a statement Thursday.
The sarcophagus also contains a number of hieroglyphic inscriptions with scenes of the deceased making offerings to several ancient Egyptian deities, he added.