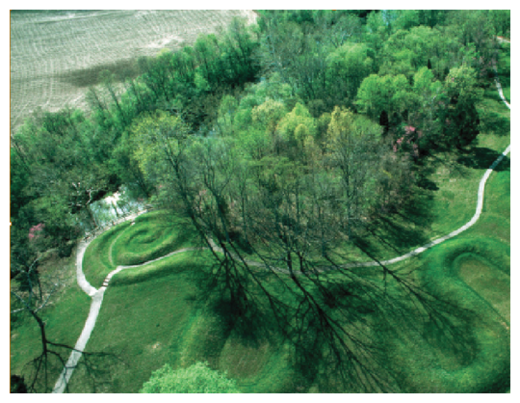 Serpent Mound in rural Adams County, Ohio, is one of the premier Native American earthworks in the hemisphere. Its pristine flowing form was enhanced by major reconstruction in the 1880s. That reconstruction now appears to have been the second time in its long life that Serpent Mound has shed some of its skin.
Estimates of the age of the earthwork are now radically revised as the result of a new radiocarbon analysis, suggesting that the mound is about 1,400 years older than conventionally thought. The new date of construction is estimated at approximately 321 BCE, one year after the death of Aristotle in Greece.
Signs and other interpretive material have been made obsolete virtually overnight, along with ideas about the indigenous culture responsible for the astounding artwork. A paper by an eight-member team led by archaeologist William Romain has been published in the
Journal of Archaeological Science
with a free-access summary available on
Romain's website
.