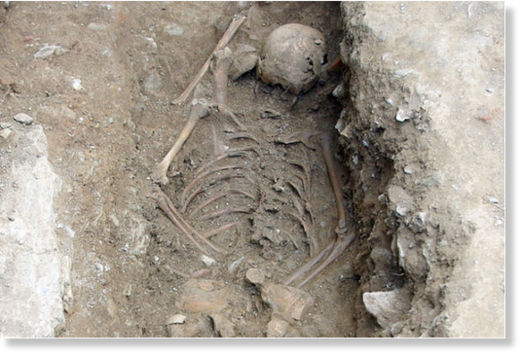 The way a person is buried by their community says a lot about how they were perceived in life. For that reason, burial customs are often used by anthropologists to gain a better understanding of how ancient civilisations and the various communities within them once functioned. Even today, there are still such strong ties between a person's religion in life and the burial customs that follow them into death, the alien anthropologists that will one day study us will no doubt appreciate the effort.
Fortunately for us, shaming a person in death, or taking measures against the possibility of supernatural retribution from beyond the grave, is far less common now as it has been in much of human history. An interesting example of this is the rare 'prone burial', which sees the skull of the deceased person being positioned face-down in their grave.
The earliest known case of prone burial
was found in the Czech Republic and dated to 26,000 years ago, while the most recent one was found in a World War I grave unearthed in Belgium.
Now archaeologists have found a new example of a prone burial - a 13-year-old girl in Italy, buried face-down in a grave facing what once was a church. The girl's remains have yet to be carbon dated, but it's been estimated that she lived some time between the Late Antiquity and the Early Middle Ages, so between 400 and 1,000 AD.