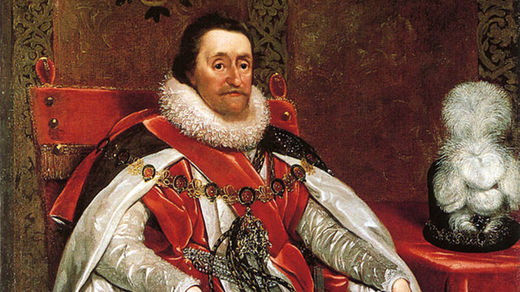 Abstract markings discovered under the floorboards of an historic aristocratic home have been identified by archaeologists as "demon traps" created to protect King James I during a visit shortly after the failure of the Gunpowder Plot.
The grids, crudely carved into wooden floorboards at National Trust property Knole in Kent, stem from a superstitious zeal that descended upon England in the aftermath of the failed 5th November, 1605 conspiracy to assassinate James I and blow up the Houses of Parliament, when conspiracies against the monarchy were rife.
The carvings, described as witchmarks, remained hidden for over 400 years and failed to surface in any historical documents, The
Times
suggests.
But a group of archaeologists from the Museum of London Archaeology were able to pinpoint when they were created using advanced carbon-dating methods.
Careful analysis of natural patterns in the wood revealed it stemmed from timber that had been felled in the winter of 1605. The archaeologists were able to discern the planks were laid in the property as flooring while they were pliable and fresh the following spring or summer.
The dates reflect a period in British history when the 1st Earl of Dorset, Thomas Sackville, enticed King James I to stay at his residence in 1606 by constructing a group of royal apartments.
An MP and Lord High Treasurer, Sackville was the nephew of executed Queen of England Anne Boleyn. Carpenters, in full knowledge they were constructing a bedroom for a monarch, strove to protect James I by carving special marks they believed would serve as talismans.