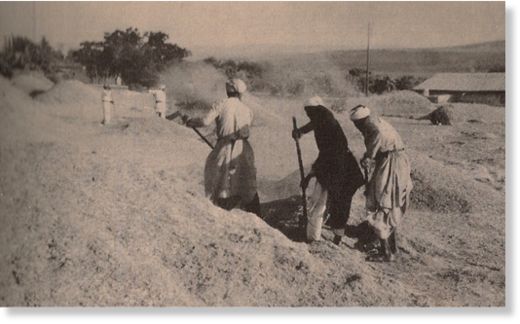 In December 1945 and January 1946, the British Mandate authorities carried out an extensive survey of Palestine, in support of the work of the United Nations Special Committee on Palestine. The results were published in the
Survey of Palestine
, which has been scanned and made available online by
Palestine Remembered
; all 1300 pages can be read
here
.
One of the subjects investigated in the
Survey of Palestine
is land use; specifically, which crops were Palestine's leading agricultural products at the end of the British Mandate, and whose farms were producing them.
So, according to the
Survey of Palestine
, who really made the barley fields of Beersheba bloom?
The British government survey found that in 1944-45 Palestine's farmers produced approximately 210,000 tons of grain.
About 193,400 tons of that grain were cultivated on Palestinian farms; about 16,600 tons were cultivated on Jewish farms.
See the precise numbers, from a scan of the relevant page of the
Survey of Palestine
,
here
.