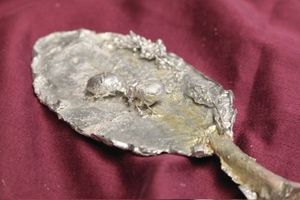 Deep in the national library of France sits a 400-year-old recipe book,
its pages jam-packed with handwritten instructions for producing ancient pigments, varnishes, colored metals, and fake gems; for casting coins, cannons, and jewelry
; and for doing creative—if disturbing—taxidermy that merges cats with bats. The manuscript is a rarity: Although printed recipe books were relatively common in the 16
th
century,
this text was the equivalent of a lab notebook for an ambitious, anonymous French craftsman
, someone who didn't just collect useful recipes but actively tinkered with them, obsessively noting observations and protocol improvements in the margins.
"The text is so unruly that you can't really read the manuscript—you have to decipher it," says
Pamela H. Smith
, a historian of science at Columbia University. Smith launched a project last September to transcribe, translate, and re-create recipes from a digitized version of this chaotic manual, whose banal name, "Ms. Fr. 640," belies its enticing contents. Funded by the National Science Foundation and dubbed the
Making & Knowing
Project, this venture has Columbia students systematically re-creating the book's recipes as part of their coursework.
Over the next few years, the plan is to compile the results of these modern re-creations in an online portal.