Comment: Laura's note: This piece is excerpted from a longer work that I wrote back in 2000 or so. Obviously, my perspectives on a lot of things have changed since then. However, the main point, that Poland was screwed over by all three countries, with FDR being the real sell-out and back-stabber, still stands. I thought it might be useful to remind the Poles of this fact now, at a time when great care should be taken regarding alliances, and on the anniversary of the invasion. Political situations can change dramatically as a people grow and change and acquire governance in accordance with that growth. Russia has changed for the better; the USA has changed for the worse; so too, it seems, has Poland.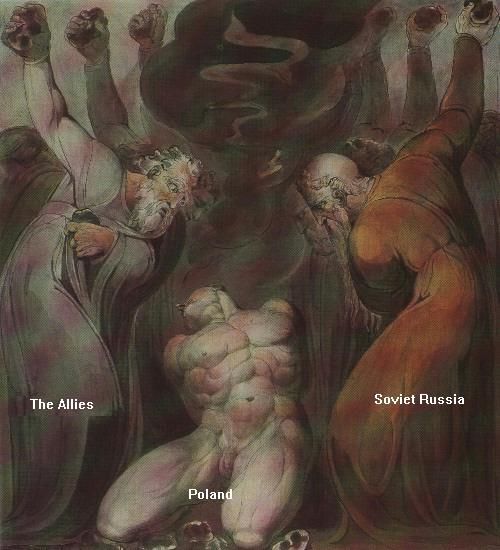 At the annual party rally held in Nuremberg in 1935, the Nazis announced new laws which institutionalized many of the racial theories prevalent in Nazi ideology. The laws excluded German Jews from Reich citizenship and prohibited them from marrying or having sexual relations with persons of "German or related blood." These became known as the infamous "Nuremberg Laws."
Many husbands and wives of Jews in Germany were forced to choose between divorce or concentration camps. Hitler would not allow "interracial" marriages and those that chose to remain married were punished by imprisonment in camps where many died. There were also many couples who committed suicide together.
Three years later, at 11: 55 p.m. on November 9, Gestapo Chief Heinrich Mueller sent a telegram from Berlin to all security police stations and units in Germany. The following paragraph is an excerpt from that telegram:
In shortest order, actions against Jews and especially their synagogues will take place in all of Germany. These are not to be interfered with... Preparations are to be made for the arrest of 20-30,000 Jews in the Reich. Primarily propertied Jews are to be selected...
The Terror had begun in earnest.
The Nazis engineered the Kristallnacht attacks so that they would appear to be unplanned and set off by the anger of the German people over the assassination of a German official in Paris at the hands of a Jewish teenager.
In two days, over 1,000 synagogues were burned, 7,000 Jewish businesses were trashed and looted, dozens of Jewish people were killed, and Jewish cemeteries, hospitals, schools, and homes were looted while police and fire brigades stood by. The pogroms became known as
Kristallnacht
, or the "Night of Broken Glass, " for the great quantity of shattered glass from the store windows that littered the streets of Germany.