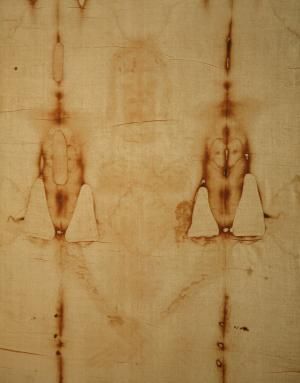 THE image of Christ on the cross, arms stretched out to the sides, is seared onto many Christians' minds. But this isn't necessarily how people have imagined it throughout history. A new analysis of the Shroud of Turin, which appears to depict a man that has been crucified, suggests that whoever created it thought crucifixion involved the hands being nailed above the head.
The Shroud of Turin is a piece of linen cloth imprinted with the faint image of a naked man with what appear to be streams of blood running down his arms (seen in the bottom centre of the photo), and other wounds. Some believe it is the cloth in which Jesus's body was wrapped after crucifixion. But reliable records of it only begin in the 14th century, and carbon dating suggests the Shroud is a medieval forgery.
Either way, the Shroud is worth studying, says
Matteo Borrini
at Liverpool John Moores University in the UK. "If it's a fake, then it's a very interesting piece of art and human ingenuity," he says.
Borrini wanted to know if the "bloodstains" on the left arm, the clearest ones, were consistent with the flow of blood from the wrist of a crucified person. So he asked
Luigi Garlaschelli
of the University of Pavia, Italy, to assume different crucifixion postures, while a cannula attached to his wrist dribbled donated blood down his arm.