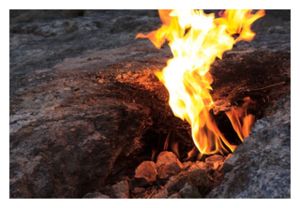 New findings reported in the
Journal of Archaeological Science
suggest that prehistoric humans were able to control and use fire at their will.
A team of Israeli scientists discovered the earliest evidence of unequivocal repeated fire building over a continuous period in the Qesem Cave. This evidence, found at an archaeological site near present-day Rosh Ha'ayin, dates back to around 300,000 years ago.
The researchers identified thick deposits of wood ash in the center of the cave, and infrared spectroscopy helped determine that there were bits of bone and soil that had been heated to very high temperatures mixed in with the ash. This evidence provides conclusive proof that this had been the site of a large hearth.
Dr. Ruth Shahack-Gross of the
Kimmel Center for Archeological Science
at the Weizmann Institute tested the micromorphology of the ash by using a microscope, helping her and her colleagues see the composition of the materials in the deposit and reveal how they were formed. This method helped the team find the evidence for a hearth that was used repeatedly over time.