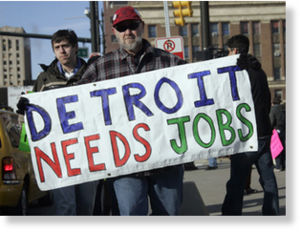 Michigan - The city of Detroit, facing a serious cash crisis, is set to go bankrupt by the end of this year and would put city workers on furlough unless it strikes a deal with the city council that would bring in $30 million before Dec. 14.
Detroit has been in financial turmoil for years, losing a quarter of its population in the past decade and facing a shrinking auto industry that has reduced tax revenues. The Detroit City Council gave the mayor the option to hire a financial advisor and in return receive $30 million by the end of the year.
But the Council on Tuesday voted 8-1 to delay the decision on the deal, which would pay the Miller Canfield Law Firm $300,000 to advise Mayor Dave Bing. The deal would have released $10 million in bond money on Tuesday and another $20 million in December.
The Council decided not to authorize the contract due to suspicions that Miller Canfield has conflicts of interests, since the firm handles other city business. The Council was also concerned that the firm's contract may not be legal, since it was not prepared or approved of by the city's chief on-staff lawyer. Council members were also upset that Bing only presented them with one law firm, denying them options to choose from.
"The Council's rejection of the Miller Canfield contract means the city will not receive the first $10 million scheduled for release today," Bing said in a statement. "As a result, it will be more difficult for the city to maintain its liquidity until the receipt of property tax revenues beginning in January. Today's vote is one more example of how City Council has stalled our efforts to bring financial stability to the city of Detroit."