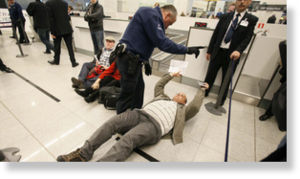 A pro-Palestinian "fly-in" to Tel Aviv got off to a slow start on Sunday after Israel scrambled to block activists from boarding flights in Europe.
"Four activists have been detained after arriving on an El Al flight from Paris and are being questioned at (Tel Aviv) airport," police spokesman Micky Rosenfeld said.
An Interior Ministry spokeswoman said the Immigration Authority had on Wednesday given airlines the names of some 1,200 activists whose entrance to Israel would be barred. Israel made clear the airlines would have to shoulder the costs of sending any deported activists back to their port of origin.
Leehee Rothschild, a "Welcome to Palestine" activist, said that dozens of campaigners had since been informed by airlines that their tickets to Tel Aviv have been cancelled.
Organizers said some 1,200 Palestinian supporters throughout Europe had bought plane tickets to Israel and had planned to travel on to the occupied West Bank, an hour's drive from Tel Aviv, as part of a campaign called "Welcome to Palestine".
The aim of the so-called "flytilla", organizers said, was to help open an international school and a museum in Bethlehem. But Israel has denounced the activists as provocateurs and said it would deny entry to anyone who threatened public order.