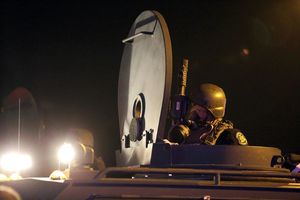 The Pentagon on Tuesday mounted a vigorous defense of the surplus military equipment transfer program that has drawn criticism following the police crackdown in Ferguson, Missouri.
The Defense Department's chief spokesman, John Kirby, told reporters during a briefing that the 1033 program was not "some program run amok," despite images of heavily armored officers in Ferguson that have fed concerns about the "militarization" of local law enforcement.
Congress created the program in 1990
to allow police departments to apply for free transfers of excess military equipment as local authorities sought to beef up security to combat drug gangs.
Transfers have increased as the Pentagon wound down the wars in Iraq and Afghanistan.
While
a House proposal seeks to boost accountability
and limit the kind of equipment that the military can give to local law enforcement, Kirby said there were already safeguards in place and that the Pentagon had the authority to stop future transfers to police departments.
Read more
here
.
Comment:
It's perfect. The CIA
creates
a drug business selling mostly to poor minority groups to fund its black ops. The local cops can't keep up (after all, the CIA is funding it), so here comes the Pentagon with used weapons they want to get rid of so they can buy shiny, new, more destructive toys. Local cop shops are happy and so is the arms industry. Not mentioned, but no less significant is the bundle Israel is making off US police departments, by running
training sessions
with the IDF in "crowd control" and other urban military techniques. Is it any wonder that it's hard to tell the difference between images of Ferguson and images of Gaza?