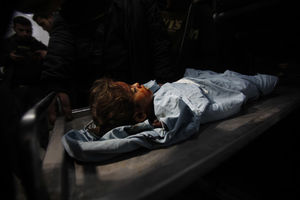 Israeli warplanes have carried out an airstrike in the Gaza Strip in response to the fatal shooting of an Israeli civilian, the Israel Defense Force has confirmed. At least one Palestinian has been reportedly killed in the strike.
Hospital officials cited by Reuters said a 3-year-old girl was killed by shrapnel in al-Bureij camp in the central Gaza Strip as she was standing with her family outside their home.
Three relatives of the girl, including two young siblings, were also reportedly injured.
According to Hamas Health Ministry official Ashraf al-Kidra, a total of 10 people were wounded in the strikes.
Following the strike, the Israel Defense Forces (IDF) issued a statement saying IAF aircrafts and IDF tanks and infantry targeted "
terror sites in the Gaza Strip
" including a weapons manufacturing facility, "
terror
" infrastructures, and a concealed rocket launcher.