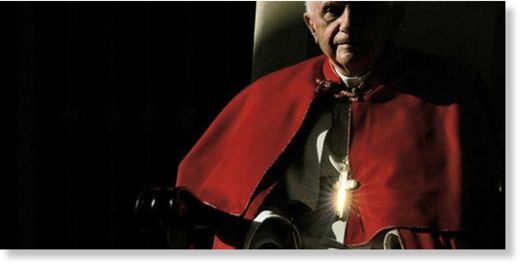 Church chiefs in Italy have launched an investigation after an Italian priest set fire to a photograph of former Pope Benedict XVI in front of dozens of stunned worshippers. Father Andrea Maggi, 67, ignited the picture during a sermon, saying that Benedict had "abandoned" the Catholic Church.
He then went on to compare him, to Costa Concordia captain Francesco Schettino, who was been accused of fleeing his post and leaving passengers on the stranded cruise ship. Father Andrea, a priest for more than 40 years, told the packed service at Santo Stefano church in Castelvittorio near Imperia: "I'm doing this because he has not been a Pope, he has abandoned us.
A shepherd never leaves his flock." Parishioners including children, looked on amazed as the picture of Benedict, who resigned last week after eight years as Pontiff was enveloped in flames before the priest let it drop to the ground and burn itself out.