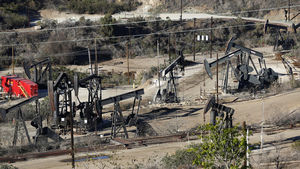 The California Senate killed a bill that would enact a moratorium on hydraulic fracturing - or fracking - in the state. The ban's proponents blame lobbying by the oil industry, which spent nearly $1.5 million in three months fighting the bill.
The proposed legislation, introduced by Democratic state Sens. Holly J. Mitchell and Mark Leno, would have prohibited all well stimulation treatments (which includes fracking) until a scientific study evaluated all health and environmental effects for both onshore and offshore drilling. It would have also forced the state's Natural Resources Agency to create fracking regulations.
The bill was defeated when four of 24 Democrats joined all 12 Republicans senators in voting "nay," while three other Democrats abstained, preventing the moratorium from gaining a majority.
The loss comes even though two-thirds of voters in the Golden State said they supported the ban, and a majority of voters said they would be "more likely
"
to vote for a legislator who supported it as well
, a recent survey on the issue by Fairbank, Maslin, Maullin, Metz & Associates found.
"This is the second time a house of the California state legislature has soundly rejected a moratorium on a routine practice that's been deemed safe repeatedly," Dave Quast, California director of Energy in Depth, an oil industry-backed group, told Reuters.
He said fracking in California creates jobs, increases state revenue and lessens the state's dependence on oil imports.
The oil lobby, led by the Western States Petroleum Association (WSPA), spent nearly $1.5 million in California during the first three months of 2014 alone,
Truth Out
reported. Altogether the industry spent more than $56 million on lobbying the California Legislature from 2009 through 2013. Californians Against Fracking estimated that oil lobbyists spent $15 million solely on defeating the bill.
"The overwhelming majority of Californians who support a moratorium on fracking will not stop fighting fracking and the public health risks, earthquakes, and climate change linked to this toxic extraction process,"
Zack Malitz of California-based progressive group Credo told Reuters.