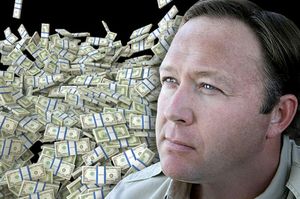 It's good to be Alex Jones. Matt Drudge, the conservative Web entrepreneur and news aggregator, proved prophetic when he predicted that 2013 would be "
the year of Alex Jones
." The longtime conspiracy broadcaster is finally breaking into the mainstream consciousness after a buzzy interview with Piers Morgan and his Boston bombing conspiracy, and traffic to his websites has
never been higher
. The conspiracy business is booming.
And make no mistake, it is a business. That's not to say that Jones isn't a believer - there are easier ways to make money - but Jones has built a multi-platform new media empire in his Austin, Texas, Free Speech Systems LLC that reaches millions of believers and
promises
advertisers that it will "direct lucrative buyers to you from our daily audience of active enthusiasts." And all told, Jones is very likely raking in millions.
Jones didn't invent the business model, but he may have perfected it. He comes from a long line of what historian
Robert Goldberg
calls "conspiracy entrepreneurs" that stretches back through at least the early Red Scare, and up through the John Birch Society, the JFK assassination and the Roswell incident to the Jones school of the New World Order. But while others merely got by on the sale of their books and tapes and lectures to a niche audience, Jones has industrialized conspiracy for a mass audience.