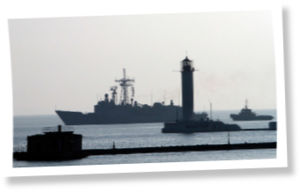 Turkey has given a US Navy Warship the green light to pass through the Bosphorus within the next two days as tensions in Ukraine's Crimea region continue to divide world powers.
Turkish sources, speaking with the
Hurriyet Daily News
on Wednesday, declined to elaborate on the name of the US warship. The same officials told the daily on condition of anonymity that the ship in question was not the USS
George H.W. Bush
nuclear aircraft carrier as suggested in some news reports, as it did not meet the standards specified by the 1936 Montreux Convention in terms of weight.