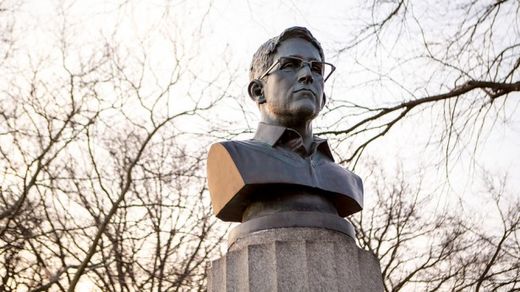 Runners and dog-walkers in Brooklyn's Fort Greene Park were greeted with an unusual sight yesterday morning:
a 4-foot tall bust of National Security Agency whistleblower Edward Snowden
.
The pair of anonymous artists responsible tapped arts and culture blog
ANIMAL New York
to film the guerrilla installation, which was
covered
and eventually taken down by the city parks officials by mid-day Monday. The artists' developed a contingency plan that involved 3-D printing "an army of mini-Snowden heads." Although, to-date, no such back-up forces have arrived, a group of locally-based political artists known collectively as The Illuminator
projected a holographic image
of Snowden in the place where the bust had briefly stood last night.
Before dawn, the small crew donning construction attire hauled the 100-pound statue, made by a sympathetic sculptor on the West Coast, into the Prison Ship Martyr's monument, built to commemorate the 11,000 American soldiers who died on British ships during the Revolutionary War. Snowden's likeness was placed atop an empty column. Rather than bronze, the statue was constructed out of hydrocal, a substance often used in Las Vegas casinos to replicate castles and Romanesque statues in gaudy displays. They spared no detail, ensuring that the color of the bust and Snowden's last name, spelled out at the column's base, fit perfectly into the rest of the monument.