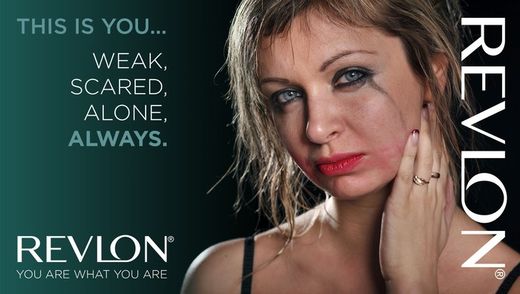 Asserting that makeup can do little beyond creating a fleeting illusion of youth and beauty, cosmetics giant Revlon launched a new series of ads this week aimed at reminding its customers they will never be able to change what they are.
The company's "You Are What You Are" campaign, which debuted with dark and haunting multi-page spreads in several major fashion magazines, cautions consumers that, at best, makeup is a sad disguise people hide behind in a futile attempt to avoid uncomfortable facts about their true nature.
"With our new ad campaign, we want to emphasize that you can buy all the lotions, powders, and fragrances you want, but you can't escape who you really are: a fragile, flawed, and ultimately insignificant being who is tormented by fear and insecurity," Revlon vice president Vivian Falk said in a press release introducing the advertisements. "It's fine to use our products if they make you feel a little more attractive, but just remember it's only a temporary distraction from the terrifying reality of your barren, unfulfilling life."
"Your existence is a dismal and feeble one, and no amount of mascara is ever going to change that," Falk added.
According to Revlon officials, the new campaign will include a mix of ruthlessly honest television spots, glossy print ads, and in-store promotions that encourage women to resign themselves to the bleak nature of their own humanity. In addition, billboards in major cities across America will reportedly feature images of a woman applying lipstick alongside the Revlon logo and a bold-faced slogan that simply reads, "You are living a lie."