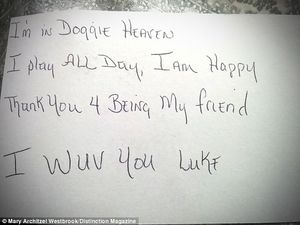 A boy who wrote letters to his dog in heaven for months got a special surprise when he received a touching reply in the mail from his beloved pet.
Since their dog, Moe, passed away in April, May Westbrook and her 3-year-old son, Luke, began writing messages addressed to their cherished pet and "sending" them to him from their Norfolk, Virginia, home.
"Because you can't fool a three-year-old, we take the letter to our mailbox," Westbrook said, adding that they address the letters to "Moe Westbrook, Doggie Heaven, Cloud 1."
Normally, Westbrook said she retrieves the letters from the mail later in the day so that her son thinks that they've been delivered.
Two weeks ago, however, she was late to collect their latest note and found that it was no longer in the mailbox.
"I assumed the post office would throw it away—or that someone might even laugh at it, or us," she wrote in a blog.
On Wednesday morning, Westbrook was stunned to discover a response letter from "Moe" in their mailbox.