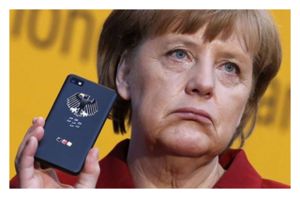 The reason there's now such a vast network of global surveillance, we're told by British and American governments, is it's essential in defending our security against terrorist plots. So that must be why the US authorities
tapped the phone calls
of Angela Merkel.
She doesn't look the type, but that's always the way with radical Islamic Jihadists who've worked their way into being
Chancellor of Germany
so they can inflict glorious holy war upon the infidels, so we should be thankful the Feds were on to her.
They've probably already decoded her sinister messages, declaring, "This call here, where she says 'We must maintain the strength of the euro for the fiscal year 2013/14', it means 'Kill the bastards. Kill them all without mercy. And don't forget to strap the explosive to your chest extra tight as that Velcro tends to come undone, and if those explosives spill all over the bus you'll feel a right fool'."
There are other possibilities I suppose. Maybe the FBI suspects she's part of the Berlin criminal underworld. So while she's in her office late at night, Obama's in a van outside listening to her make calls such as, "Oi Nobby. I think Plod's on to us. We've got an informer and I suspect Francois Hollande. If he asks any questions don't say nothing, he might be wearing a wire."
Or she might be dealing. All evening, when the other German ministers think she's preparing her speech for a summit somewhere, she's weighing out grass and telling customers, "This is good shit. At the G20 this was everywhere, the Prime Minister of Japan was ripped all through the agreement on fishing rights."