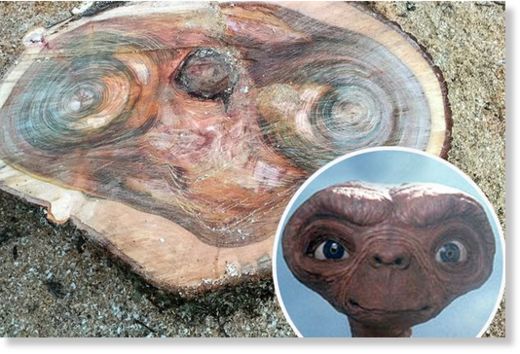 When he phones home, E.T. might be making a trunk call as the beloved alien is spotted deep inside a spooky Scottish tree
Scotland now has a mysterious phenomena to rival the Loch Ness Monster as E.T has been sighted in a tree trunk.
The movie
E.T. the Extra-Terrestrial
was released by Steven Spielberg in 1982 and surpassed
Star Wars
to become the highest grossing film of all time.
The lovable alien, known as E.T., entered the hearts of movie-goers around the world - but now he has also entered a tree in Scotland.
Hotel owner Billy Harley, who runs the Uig Hotel on the Isle of Skye, found the amazing image of the wrinkly alien inside the trunk of a tree he was chopping to make firewood.