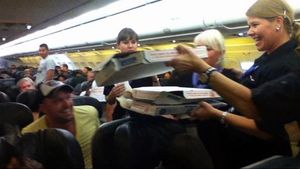 It's probably not an announcement passengers aboard one Frontier Airlines flight expected.
After an already delayed Denver-bound plane was forced to temporarily land at a Wyoming airport until severe weather cleared up, passengers were left stranded on the tarmac for about an hour.
The 160 individuals aboard the Monday night flight were growing hungry and tired - and the pilot knew it. That's when he made a surprise announcement over the loudspeaker.
"He said 'Ladies and gentleman, Frontier Airlines is known for being one of the cheapest airlines in the US, but your captain is not cheap,'" passenger Logan Marie Torres, who is also Miss Colorado U.S. Teen 2014,
told KDVR-TV
. "'I just ordered pizza for the entire plane.'"
Cheyenne Domino's Pizza manager Andrew Ritchie told The Associated Press he got a call at about 10 p.m. Monday just as he was about to send employees home. He says the pilot told him he needed to feed 160 people - fast.
"I need to feed my whole plane," the caller told him,
according to WESH-TV
. "Lucky me, I hear 160 people."