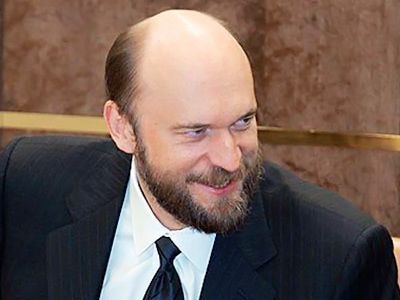 Like all karate black belts, Putin is incapable of anticipating anything.
He's "not someone who sets strategic plans; he lives today." He's as unpredictable as a menopausal woman [no offense, Mom - Riley]. Sometimes he even barricades himself in his Kremlin nuclear fallout shelter for hours on end, snacking on buckets of tasty popcorn shrimps as he watches
Bridget Jones's Diary
over and over again.
We know all of this thanks to Russia's bravest political dissident-in-exile, Sergei Pugachev, who
describes
Putin as a comatose Ritalin-induced vegetable: "With [Putin] it was just quiet, no one there, no meetings, everything quiet. He'd sit there, or watch TV. He really likes watching TV."
Russia's bloodthirsty dictator-for-life is...
Chauncey Gardener
? Fancy that. "I can't write. I can't read. I like to watch TV. As long as the roots are not severed, all is well in Russia." Finally, the mystery of Vladimir Putin has been solved forever.
Who is Sergey Pugachev, and how did he become privy to so many hot Putin scoops?