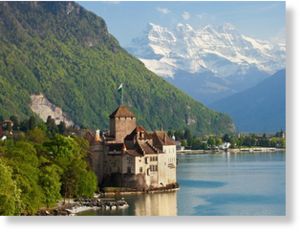 A killer wave slammed medieval Geneva, a new study says. And it could happen again. Nearly 1,500 years ago a massive flood in Geneva reportedly swept away everything in its path - mills, houses, cattle, even entire churches. Now researchers believe they've found the unlikely sounding culprit: a
tsunami
-like killer wave in the Alps. The threat, they add, may still be very much alive. (
Video: Tsunamis 101.
)
Spurred by a huge landslide, the medieval Lake Geneva "tsunami" (technically defined as a seismic ocean wave) swamped the city, which was already a trading hub, according to a new study. Far from any ocean, the massive wave was likely generated by a massive landslide into the Rhône River, which feeds and flows through Lake Geneva, according to a group of
Swiss
researchers.
The team analyzed a massive sediment deposit at the bottom of the lake's easternmost corner and determined that the material had once sat above the lake and had slid all at once into the Rhône
,
near where the river flows into the eastern end of
Lake Geneva (map)
.