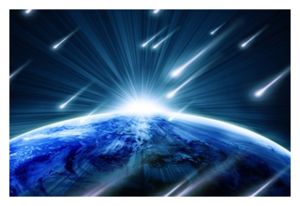 For 50 years, scientists have wondered what annihilated the ancestor of L-chondrites, the roof-smashing, head-bonking meteorites that frequently pummel Earth.
Now, a new kind of
meteorite
discovered in a southern Sweden limestone quarry may finally solve the mystery, scientists report. The strange new rock may be the missing "other half" from one of the biggest interstellar collisions in a billion years.
"Something we didn't really know about before was flying around and crashed into the L-chondrites," said study co-author Gary Huss of the University of Hawaii at Manoa.
The space rock is a 470-million-year-old fossil meteorite first spotted three years ago by workers at Sweden's Thorsberg quarry, where stonecutters have an expert eye for
extraterrestrial objects
. Quarriers have plucked 101 fossil meteorites from the pit's ancient pink limestone in the last two decades. [
Photos: New Kind of Meteorite Found in Sweden
]
Researchers have nicknamed the new meteorite the "mysterious object" until its formal name is approved, said lead study author Birger Schmitz, of Lund University in Sweden and Chicago's Field Museum. It will likely be named for a nearby church, the Österplana, he said.