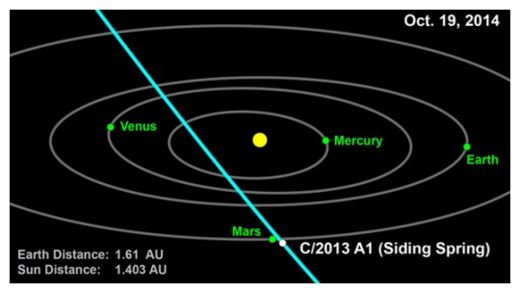 NASA's Near-Earth Object Office says that new observations of comet C/2013 A1 (Siding Spring) have allowed further refinements of the comet's orbit, helping to determine the chances it could hit Mars in October of 2014. Shortly after its discovery in December 2012, astronomers thought there was an outside chance that a newly discovered comet might be on a collision course with Mars.
While the latest orbital plot places the comet's closest approach to Mars slightly closer than previous estimates, the new data now significantly reduces the probability the comet will impact the Red Planet, JPL said, from about 1 in 8,000 to about 1 in 120,000.
The closest approach is now estimated at about 68,000 miles (110,000 kilometers). The most previous estimates had it whizzing by at 186,000 miles (300,000 kilometers).