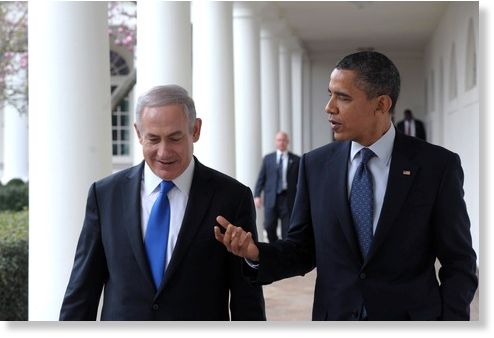 President Obama and Mitt Romney are both jostling to upstage each other prior to Romney's trip to Israel. Obama is set to authorize
an additional $70 million in military assistance to Israel
today.
Haaretz reports
that "U.S. Jewish leaders and a long list of Democratic and Republican congress members and senators have been invited to the signing ceremony of the act, which will take place in the White House."
But the Romney campaign knows how to squash that news.
From the
Associated Press
's
Romney jabs Obama on US policy toward Israel day before Republican visits Jerusalem
:
The Republican's campaign says Romney is happy steps are being taken to enhance security cooperation with Israel. But that the bill "does nothing" to address whether Obama recognizes Jerusalem as the capital of Israel.
But is it Romney's position that Jerusalem is the capital of Israel, which would recognize Israel's illegal annexation of the city? That is what he's indicating--but
Romney was criticized by Rick Santorum
during the primaries for refusing to explicitly say that Jerusalem was Israel's capital. You can bet that Sheldon Adelson, who
helped create the group One Jerusalem
to advocate for Israeli control over all of Jerusalem, has been
pressuring Romney to echo Santorum.