About Laura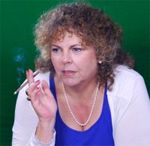 Name: Laura Knight-Jadczyk

Laura Knight-Jadczyk is a seventh generation Floridian, a historian/mystic and author of 14 books and many articles published in print and on the internet. She is the founder of SOTT.net and the inspiration behind the Cassiopaean Experiment. She lives in France with her husband, Polish mathematical physicist, Arkadiusz Jadczyk, four of her five children, extended family, eight dogs, five birds and a cat.
Contact Us
Support
SOTT.NET
E-mails sent to Sott.net become the property of Quantum Future Group, Inc and may be published without notice.
Reader comments do not necessarily reflect the views of the volunteers, editors, and directors of SOTT.net or the Quantum Future Group.
Remember, we need your help to collect information on what is going on in your part of the world! Send your article suggestions to:
Some icons appearing on this site were created by: Afterglow, Aha-Soft, AntialiasFactory, artdesigner.lv, Artura, DailyOverview, Dellustrations, Everaldo, GraphicsFuel, IconDrawer, IconFactory, Iconka, IconShock, Icons-Land, i-love-icons, KDE-look.org, Klukeart, Mayosoft, mugenb16, NicolasMollet, PetshopBoxStudio, VisualPharm, VistaICO, wbeiruti, WebIconset, YellowIcon
---
Original content © 2002-2015 by Sott.net/Signs of the Times. See: Fair Use Notice