About Harlequin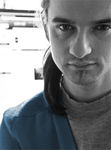 Name: Jörg Klinger

Jörg Klinger has a degree in social sciences and is an editor for Sott.net since 2011. To spread the word and to give objective news also to German readers was with one of the main reasons joining the brilliant Sott-Team. He is daily looking for news, mainly concentrating on Puppet Masters, Societies child and Fire in the Sky. He helps out translating Sott-Focus articles, organizing them and putting articles and books in form and shape. Sometimes he writes and co-writes articles himself. And if he is not working for Sott.net, or helping out in other projects, he likes to photograph and to draw.
Contact Us
Support
SOTT.NET
E-mails sent to Sott.net become the property of Quantum Future Group, Inc and may be published without notice.
Reader comments do not necessarily reflect the views of the volunteers, editors, and directors of SOTT.net or the Quantum Future Group.
Remember, we need your help to collect information on what is going on in your part of the world! Send your article suggestions to:
Some icons appearing on this site were created by: Afterglow, Aha-Soft, AntialiasFactory, artdesigner.lv, Artura, DailyOverview, Dellustrations, Everaldo, GraphicsFuel, IconDrawer, IconFactory, Iconka, IconShock, Icons-Land, i-love-icons, KDE-look.org, Klukeart, Mayosoft, mugenb16, NicolasMollet, PetshopBoxStudio, VisualPharm, VistaICO, wbeiruti, WebIconset, YellowIcon
---
Original content © 2002-2015 by Sott.net/Signs of the Times. See: Fair Use Notice