About Lisa Guliani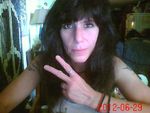 Lisa Guliani is a former internet-based political talk show host, political writer, researcher, activist, conscientious objector, "known protester', and self-described thought provocateur. When she's not engaged in some odd combination of the above, she's handing out smiles to the elderly, and also enjoys reading, music, cracking jokes, and hanging out with her buddy, Goose, who has yet to realize he's a dog. Her favorite sections of SOTT?
It's a three-way tie: Secret History, Puppet Masters and Society's Child.
Contact Us
Support
SOTT.NET
E-mails sent to Sott.net become the property of Quantum Future Group, Inc and may be published without notice.
Reader comments do not necessarily reflect the views of the volunteers, editors, and directors of SOTT.net or the Quantum Future Group.
Remember, we need your help to collect information on what is going on in your part of the world! Send your article suggestions to:
Some icons appearing on this site were created by: Afterglow, Aha-Soft, AntialiasFactory, artdesigner.lv, Artura, DailyOverview, Dellustrations, Everaldo, GraphicsFuel, IconDrawer, IconFactory, Iconka, IconShock, Icons-Land, i-love-icons, KDE-look.org, Klukeart, Mayosoft, mugenb16, NicolasMollet, PetshopBoxStudio, VisualPharm, VistaICO, wbeiruti, WebIconset, YellowIcon
---
Original content © 2002-2015 by Sott.net/Signs of the Times. See: Fair Use Notice