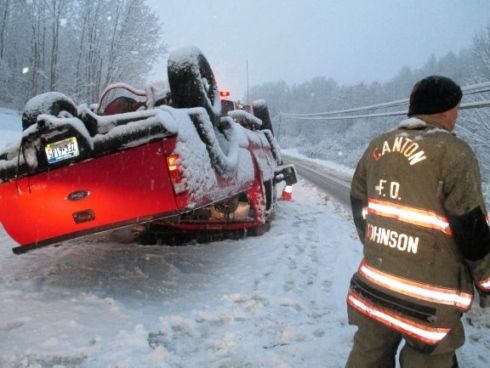 The only thing area motorists could be thankful for Wednesday was safely reaching their destinations.
And for some, that didn't happen.
A pre-Thanksgiving snowstorm made roads a treacherous mess, sending vehicles slipping, sliding and some even overturning. The snow set a record.
As of 7:30 p.m. in Towanda, Wayne Vanderpool, National Weather Service Co-Op Observer, reported that he measured 11.2 inches of snow, "with it still snowing lightly."
He said it was "the
most snow ever measured in Towanda on any November day, since records began back in 1895
."
Also, Vanderpool said Wednesday's total set a 24-hour snowfall record for Nov. 26. The old record was 2.5 inches, which he said was set back in 1898.
The snow kept emergency responders busy with calls.
"It's all over the county," said Alan Painter, an assistant chief with the Troy Volunteer Fire Department. "The departments are getting called everywhere." Painter said that with all the snow, there was "no traction" on the roads.
On Wednesday night, Painter stood beside a truck that lay on its side, following a crash, with no injuries, that occurred on Route 14 in Troy Township. He said it was caused by the bad road conditions. A man, who was the only person in the truck, refused treatment.
"It's pretty slippery, a slippery snow," Painter said. "It's one of the early ones. People aren't used to it yet."