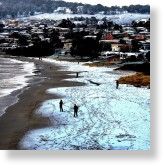 The Bureau of Meteorology has confirmed what many Tasmanians already suspected, it has been the coldest winter in nearly 50 years.
With winter coming to a close officially ahead of the first day of spring on Tuesday, the bureau's Debbie Tabor revealed it was the sixth coldest winter on record.
"It's been below average temperature and rainfall for Tasmania during this winter,"
she said.
"Preliminary analysis is all indicating that it's the sixth coolest on record,
that's resulting in the coolest winter since 1966."
Heavy snow in August reached sea level for only the seventh time since 1986.
The dump in early August closed several schools and roads and stranded people in their cars.
Snow fell again in late August again closing roads and creating traffic chaos.
The snow was a welcome boost for the ski season at Mount Field and Ben Lomond but made it .