Trying to reap the health benefits of exercise? Forget treadmills and spin classes, researchers at the Salk Institute for Biological Studies may have found a way around the sweat and pain. They identified two signaling pathways that are activated in response to exercise and converge to dramatically increase endurance.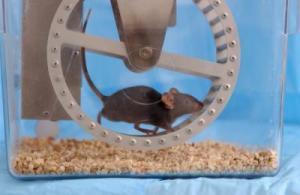 ©Salk Institute for Biological Studies
Mouse on a treadmill.
The team of scientists, led by Howard Hughes Medical Investigator Ronald M. Evans, Ph.D., a professor in the Salk Institute's Gene Expression Laboratory report in the July 31 advance online edition of the journal
Cell
that simultaneously triggering both pathways with oral drugs turned laboratory mice into long-distance runners and conferred many of exercise's other benefits.
In addition to their allure for endurance athletes, drugs that mimic the effects of exercise have therapeutic potential in treating certain muscle diseases, such as wasting and frailty, hospital patients unable to exercise, veterans and others with disabilities as well as obesity and a slew of associated metabolic disorders where exercise is known to be beneficial.