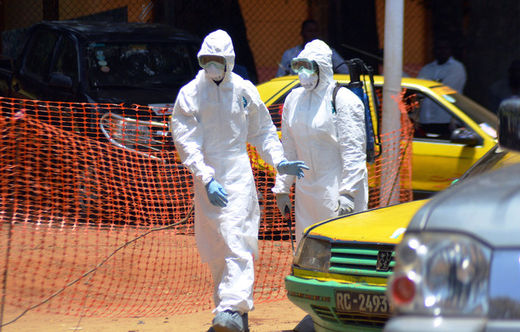 The death toll from the worst Ebola outbreak in seven years climbed to 83 in Guinea as the aid organization Doctors Without Borders said the disease's geographical spread marks the flare-up as unprecedented.
In neighboring Liberia, one of two confirmed cases has died, while a second person who died with a suspected Ebola infection tested negative for the virus, the World Health Organization said in a statement. Both confirmed cases in Liberia were exposed to Ebola in Guinea, Gregory Hartl, a WHO spokesman, said on Twitter.
The outbreak is the first in Guinea, which reported five new cases, raising the total to 127 suspected or confirmed illnesses, Tarik Jasarevic, a WHO spokesman in Guinea, said today. The pattern of infection, with patients found in the coastal capital of Conakry as well as villages in the country's southern area, marks this outbreak as different, according to Mariano Lugli of Doctors Without Borders.