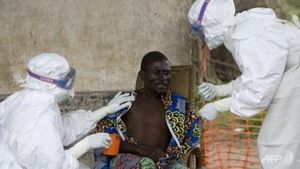 Ebola health workers in boiling hot suits, toxic chemicals
In recent articles, I stated it's a mistake to jump to a conclusion about what's really making doctors and nurses sick in African Ebola clinics. (see
here
and
here
).
Here's a missing factor in understanding what is happening to some of those doctors and nurses.
I'm not talking about Ebola. I'm talking about physiological shock, huge and sudden dehydration, and more.
On top of that, factor in a
falsely positive diagnostic Ebola test
for a few of those health workers, and what do you have? A nightmare.
From the
Daily Mail
, August 5, an article headlined,
"In boiling hot suits..."
:
"Doctor Hannah Spencer revealed how she wills herself to feel safe inside a boiling hot air-sealed Hazmat suit..."
"Boiling: Doctors and nurses lose up to five litres in sweat during an hour-long shift in the suits and have to spend two hours rehydrating after..."
"To minimise the risk of infection they have to wear thick rubber boots that come up to their knees, an impermeable body suit, gloves, a face mask, a hood and goggles to ensure no air at all can touch their skin."
"Dr. Spencer, 27, and her colleagues lose up to five litres of sweat during a shift treating victims and have to spend two hours rehydrating afterwards."
"At their camp they go through multiple decontaminations which includes spraying chlorine on their shoes."
"Dr. Spencer: 'We would like to keep a [patient] visit between 45 minutes and one hour, but now, we're stretching it to almost two hours. We put ourselves through a very strong physiological stress when we're using personal protection gear.'"
"'We sweat, we're losing water; we're getting hotter and it wreaks havoc on the body. Our own endurance starts to wear down.'"