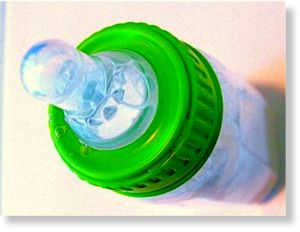 Phytoestrogens in soy-based formulas are known to carry greater risks than benefits for infants. Babies fed soy-based formula had 13,000 to 22,0000 times more isoflavones in their blood than babies fed milk-based formula. New data published in
PLoS One
shows that consumption of soy formula may also be associated with a higher rate of seizures in children.
True cancer of the prostate, carcinoma, is seldom seen in infants and children, but
other forms of malignant tumors may develop and more cases are appearing in developed nations where the link appears to center around soy infant formula.
While many claims have been made about the health benefits of these estrogen-like compounds,
animal studies indicate that soy (both conventional and organic) contain powerful endocrine disrupters that alter growth patterns and cause sterility. Toxicologists estimate that an infant exclusively fed soy formula receives the estrogenic equivalent of at least five birth control pills per day.
By contrast, almost no
phytoestrogens
have been detected in dairy-based infant formula or in human milk, even when the mother consumes
soy products
. Scientists have known for years that isoflavones in soy products can depress thyroid function, causing autoimmune thyroid disease and even cancer of the thyroid.