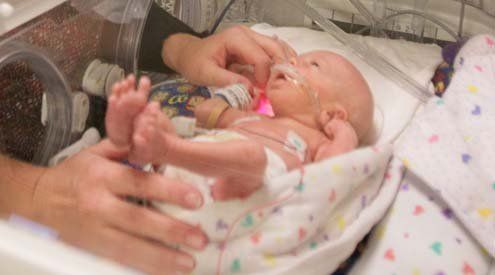 New University of Minnesota research out this week is the first of its kind to show who is having early elective deliveries between 37 and 39 weeks gestation, and whether these deliveries happen following labor induction or cesarean.
Labor induction or cesarean delivery without medical reason before a baby is considered full-term at 39 weeks, or an "early elective delivery," is associated with health problems for mothers and babies.
The study, led by University of Minnesota School of Public Health Assistant Professor Katy Kozhimannil, Ph.D., M.P.A., in collaboration with Children's Hospital of Philadelphia researchers Michelle Macheras, M.A., and Scott A. Lorch, M.D., M.S.C.E., appears in this month's edition of the journal
Medical Care
.
Researchers reviewed data linking birth certificates with hospital records for all births in California, Missouri and Pennsylvania between 1995 and 2009. The three states represent approximately 20 percent of all U.S. births and encompass a wide range of sociodemographic characteristics and geographic locations.
"Our study showed that early elective deliveries made up more than 3 percent of U.S. births each year over the past 20 years. This may seem to be a small number, but with 4 million births a year in the U.S.,
each percentage point represents 40,000 babies
," said Kozhimannil. "In addition, we showed that there are important sociodemographic differences in the chances a pregnant woman has an early electivecesarean or an early elective induction of labor."