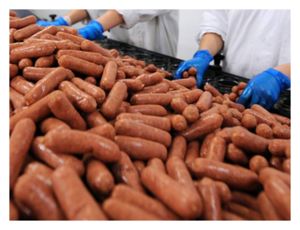 Shoppers are allegedly at risk of buying food "fake food," including ham on pizza that is "meat emulsion" or poultry, prawns that are 50 per cent water, and fruit juice containing additives not permitted in the EU.
The results found by a council laboratory in West Yorkshire and shown to the
Guardian
newspaper, claim to reveal that almost 40% of 900 food samples were not what they were advertised, or were mislabelled in some way.
The tests were part of a general surveillance programme by the local authority, and as part of checks focusing on products prone to being counterfeited.
Among the reported discoveries was herbal slimming tea containing neither tea nor herbs, but rather glucose powder mixed with prescription obesity medication at 13 times the normal dose; and beef mince that allegedly contained pork or poultry products.
The illegal additives claimed to have been found in juices included brominated vegetable oil, which is meant to be used as a flame retardant and is linked to behavioural problems in rats at high doses.
The experts told the newspaper that they are concerned the 900 samples were likely to be indicative of national trends at large, as budget cuts increase the risk that mislabelled or fake food will be left unidentified by council-run labs.