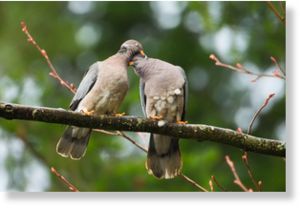 A new pathogen has been discovered by scientists investigating major die-offs of pigeons native to North America, according to studies led by the University of California, Davis, and the California Department of Fish and Wildlife.
Scientists were able to implicate this new parasite, along with the ancient parasite
Trichomonas gallinae,
in the recent deaths of thousands of Pacific Coast band-tailed pigeons. The die-offs occurred during multiple epidemics in California's Central Coast and Sierra Nevada mountain ranges. Scientists named the new pathogen
Trichomonas stableri
.
Avian trichomonosis is an emerging and potentially fatal disease that creates severe lesions that can block the esophagus, ultimately preventing the bird from eating or drinking, or the trachea, leading to suffocation. The disease may date back to when dinosaurs roamed the earth, as lesions indicative of trichomonosis were found recently in T-Rex skeletons. The disease may also have contributed to the decline of the passenger pigeon, whose extinction occurred exactly 100 years ago.