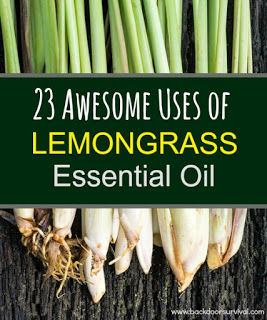 Anyone who has used essential oils for a period of time will find that they reach for the same tried and true oils over and over again. In my case, there are the go-to standards lavender, peppermint, rosemary and frankincense; but, in addition, there is lemongrass.
Three years ago, I thought lemongrass was an herbal plant used in tea and in Asian cuisine. While I still enjoy a soothing cup of lemongrass and ginger tea, these days lemongrass essential oil serves an important role in my first aid kit as well.
The lemongrass genus has over fifty different species worldwide, but only some of the species are suitable for utilization as essential oil. The two most commonly used in essential oils are are
Cymbopogan citratus
and
Cymbopogan flexuosus
.
Historically, lemongrass has been used to treat fevers, inflammation and indigestion as well as a sedative. These days, it is used for an armload of other ailments as well as for purification and odor control. Today I share 23 uses for lemongrass essential oil that will set you on a path of wellness.