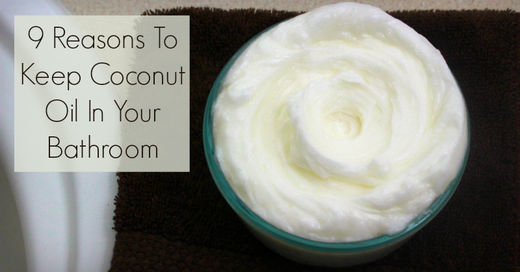 I write a lot about using coconut oil in recipes but many don't know of the benefits of using coconut oil outside of the kitchen. We keep a jar of coconut oil in our bathroom always! Coconut oil is a wonderful skin moisturizer as well as a leave in hair treatment. Below is a list of 9 ways our family uses coconut oil in the bathroom. 9 Reasons To Keep Coconut Oil In Your Bathroom


Oil Pulling -
Have you swished with coconut oil? Oil pulling is a traditional way to cleanse the mouth of bacteria. Start your day with oil pulling by swishing a teaspoon of coconut oil in your mouth. Try to swish for at least 10 minutes. If you can, swish up to 20 minutes. Learn more about
oil pulling here
.


Use as a carrier oil
. When I'm stressed or need to relax I mix a spoonful of coconut with a few drops of my favorite
essential oils
. I use
Panaway
for sore muscles,
Peace and Calming
for relaxation,
lemon
or
peppermint
to energize and
lavender
to help me sleep.


Shave Your Legs
. That's right! Coconut oil is a girls best friend when it comes to shaving. If you want baby soft legs, rub a small amount of coconut oil on your legs before shaving.


Hair Treatment
- Coconut oil helps
reduce protein loss
when used as a pre or post treatment. I swing towards pre-treating my hair by adding a 1/2 tablespoon of coconut oil to the roots and work the oil down to the ends. I then leave the coconut oil on for an hour before rinsing.