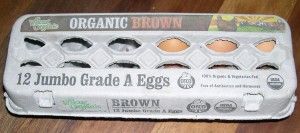 Slap a 'USDA Certified Organic' label on a product, and viola! It is safe, GMO-free, and healthy, right? If you are comfortable and feel safe believing that, then this article is not for you. However, if you think that somehow trusting the USDA - an agency that has proven time and time again that its sole purpose is to hand the act of producing food over to the hands of multinational agribusiness corporations such as Monsanto - with the truthful labeling of our supposedly 'organic' food is foolhardy at best, then read on.
Recently I posted "
GMOs in USDA Organic Food
" on Farm Wars. It is getting very little notice. Why? Because nobody wants to hear it. It tears apart the illusion of a 'safe' haven for non-GMO food. It attacks the bubble we create for ourselves, thinking that we can simply go to the store and pick up a can of 'USDA Certified Organic' food and feel safe. It makes us uncomfortable because it demands that we take responsibility for our food choices instead of relegating those choices to a government agency whose sole purpose is to subjugate and control. And we go home with our cans and jars and boxes of government-certified phony 'organic' food and feel good about ourselves that we made the right choice and have taken a stand for food safety.