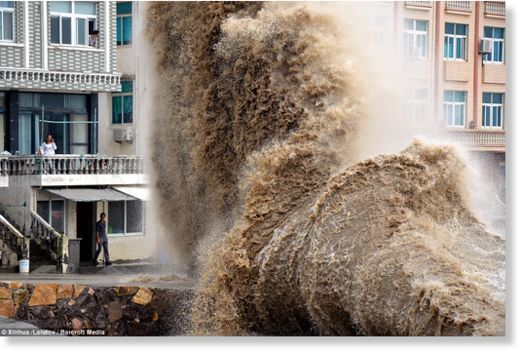 Safety measures at the devastated Fukushima nuclear power plant were tightened today as the strongest storm to hit Japan this year battered the southern islands of Kyushu and Shikoku.
Typhoon Vongfong brought heavy rain to Tokyo and caused extensive travel disruption across Japan, where 820,000 people have been urged to leave their homes and seek shelter.
Many trains in western cities were suspended, while more than 500 domestic flights were cancelled, the public broadcaster NHK said. At least one overseas flight was cancelled, according to an airline.
About 4,900 households in Tokyo suburbs were without power, media said, and rain in the city was expected to intensify overnight.
Vongfong continued to batter the southern Japanese island of Okinawa, 1,000 miles south of Tokyo, where it landed yesterday, and moved up to also hit Kyushu and Shikoku islands, injuring 59 people, NHK said.
Additional images