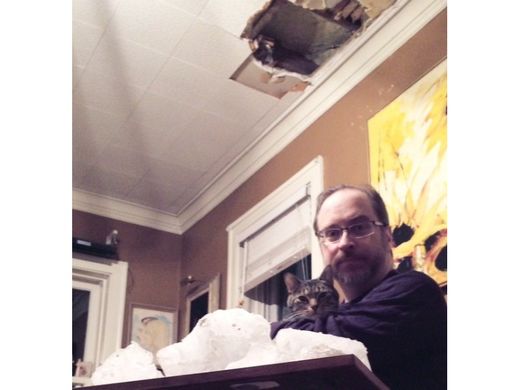 A Chicago man arrived home from work on Tuesday evening only to discover three bowling ball-size chunks of ice in his living room and a freaked out cat.
John "Sinatra" Connors, an information technology specialist and occasional lounge crooner, said that whatever crashed through the roof of his Ravenswood Manor apartment building landed with such velocity that it shattered the ceiling beams.
"When I walked into my apartment the chair that is normally against the wall was pushed into the middle of the living room," he said. "There was ice everywhere. I could see the sky through the hole in my ceiling."
Connors found one chunk of ice in his bedroom, a good 15 to 20 feet away from the crash's epicenter. He says he was in was in too much shock to notice the frigid, arctic wind whipping through the gaping hole in his ceiling.