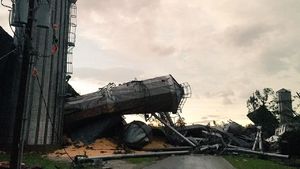 Tornadoes carved through the towns of Cameron and Delavan, Illinois, Thursday night, causing significant damage and injuries.
On Friday, the National Weather Service gave the tornadoes preliminary ratings of EF-2 on the
Enhanced Fugita Scale
.
The tornado that hit Delavan touched down without warning, the National Weather Service said. Tornado sirens were silenced in mere seconds after power was cut off to the town.
Fifty-one homes were damaged during the brief touchdown in Delavan, and reports indicate six of the homes were a total loss. At least two people were injured.