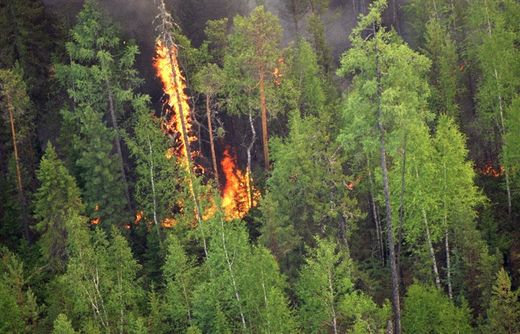 Seventy nine forest fires were raging on more than 13,500 hectares in five Siberian regions. The Irkutsk region and the Krasnoyarsk territory were hit most severely with 8,400 and 4,900 hectares burning, the press service of the Siberian Federal District's Forestry Department reported on Thursday.
Forty nine fires on more than 6,000 hectares were extinguished on Wednesday in Buryatia, the Altai, Trans-Baikal and Krasnoyarsk territories and the Irkutsk, Novosibirsk and Tomsk regions, where 1,860 firefighters, including smoke jumpers, and 30 aircraft fought the blaze.
The fires were caused mainly by carelessness of people and thunderstorms.
There have been 6,390 forest fires on 1,156,000 hectares in Siberia since the beginning of the warm season