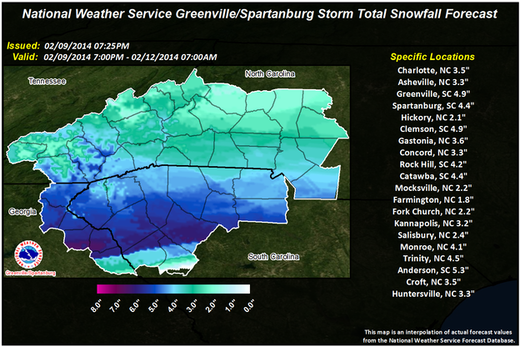 Road crews and Carolinas residents began preparing Sunday for a double-barreled winter storm expected to bring several inches of snow to Charlotte on Tuesday and Wednesday and sleet and freezing rain in other areas.
The National Weather Service said it expected more than 3 inches in Charlotte from the first system Tuesday. Additional snowfall is likely Wednesday from the second system, forecasters said.
The N.C. Department of Transportation launched its trucks on the road at midday Sunday, when sunshine and southerly winds sent temperatures soaring above 60 degrees in Charlotte. Jen Thompson of the DOT said 22 trucks spread brine on major highways to prepare for the snow, which is forecast to begin late Monday or early Tuesday. By Sunday evening, state crews had progressed to secondary roads.
Sunday's mild weather was expected to end overnight. A cold high pressure system is forecast to bulge southward over the Carolinas, and a pair of low pressure systems then are predicted to track across the Southeast.
While crews were laying a coat of the salt-water mixture on the roads, Charlotte-area residents flocked into grocery stores and hardware stores. An employee at the Lowe's store at Sycamore Commons shopping center in Matthews said Sunday that business had increased in the afternoon for winter-related items.