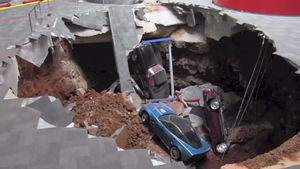 A sinkhole reportedly
opened up inside the National Corvette Museum
in Bowling Green, KY at around 5:44AM local time, swallowing eight vintage Corvettes that were on display. The sinkhole is reportedly about 40 feet wide and at least 25 feet deep. No one has been hurt.
The Bowling Green fire department was on the scene right away and geologists from Western Kentucky University have been
called to investigate
. Much of the western Kentucky region is underlain by karst, limestone that has been eroded to produce springs, sinking streams, caves, and sinkholes.
The sinkhole occurred in the museum's Sky Dome, a yellow cone-shaped dome 140 feet in diameter with a nearly 100-foot high glass ceiling. Cars in this area are rotated, as they are in the rest of the museum. No one is being allowed into the Sky Dome, but the rest of the museum initially remained open before
reportedly closing
later in the morning so an engineer could assess damages.