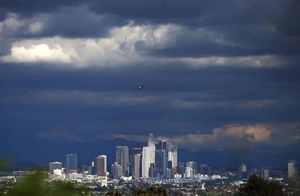 Spring weather in downtown Los Angeles and other areas of Southern California flip-flopped this year as temperatures cooled from March to May,
creating a so-called reverse meteorological spring for the first time in nearly a century
, officials said on Tuesday.
A reverse meteorological spring is rare and indicative of the abnormally warm and dry weather plaguing California
, which has suffered severe drought conditions for the last four years, National Weather Service weather specialist Stuart Seto said.
"What this means is that springtime started out warmer in March and then April was cooler and May was cooler," Seto said.
"It's an unusual occurrence that's only happened three times in the history since we've been keeping records."
The last reverse meteorological springs in the area were in 1914 and 1921, according to National Weather Service records dating to 1877.