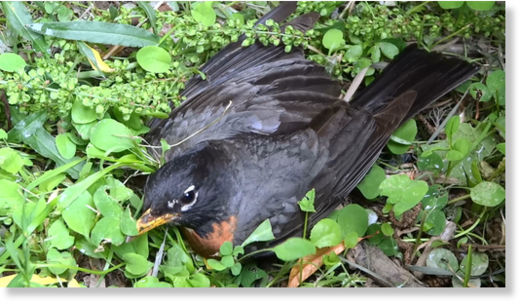 All this week we're bringing you stories about the chemical company responsible for the PBB tragedy in Michigan.
Michigan Chemical accidentally contaminated the state's food supply in the 1970s, but the legacy of that company is still very much with us today.
Michigan Chemical - which later became Velsicol Chemical - made more than just PBB, and it left these toxic chemicals behind in St. Louis, Michigan.
One woman insists something is wrong with the birds
Teri Kniffen and her family moved to St. Louis in 1994. She had heard about Velsicol Chemical and the PBB tragedy in Michigan, but when they bought their house, they didn't realize they were moving right next to where the old plant site was buried.
In 2001, she started noticing dying robins in her yard.
"When I'd go out in the backyard, and get near them, they wouldn't move," says Kniffen. "They just would stagger around the yard, and they'd end up dying."

Kniffen said she would find around 10 to 12 dead birds a year - mostly American robins. She said she tried to get officials from the MDEQ and the EPA to test the birds, but they mostly ignored her. An MDEQ official told her to collect the dead birds in her freezer, but she says by the time they came to collect them four years later, she was told the birds could not be tested.
So two years ago, Kniffen had the birds tested herself at MSU,
and the birds tested positive for acute DDT and DDE poisoning.
Kniffen videotaped the birds as well. Here's what she and her neighbors would see (this video might be disturbing for some viewers):