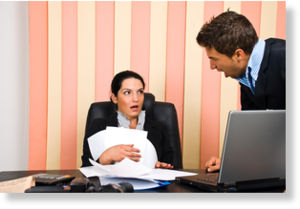 Supervisors who are abusive to individual employees can actually throw the entire work team into conflict, hurting productivity, finds new research led by a Michigan State University business scholar.
The study, conducted in China and the United States, suggests the toxic effect of nonphysical abuse by a supervisor is much broader than believed. Published online in the
Journal of Applied Psychology
, it's one of the first studies to examine the effect of bad bosses in employee teams. Teams are increasingly popular in the business world.
Lead investigator Crystal Farh said
supervisors who belittle and ridicule workers not only negatively affect those workers' attitudes and behaviors, but also cause team members to act in a similar hostile manner toward one another.
"That's the most disturbing finding," Farh said, "because
it's not just about individual victims now, it's about creating a context where everybody suffers, regardless of whether you were individually abused or not."