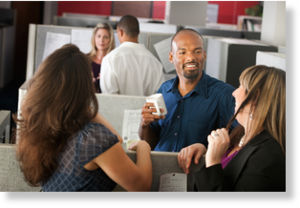 A Stanford study finds that what you might think of as your worst qualities - talking about people behind their backs and voting others "off the island" - can offer surprising benefits for our greater harmony.
While gossip and ostracism get a bad rap, they may be quite good for society, according to Stanford scholars.
Conventional wisdom holds that gossip and social exclusion are always malicious, undermining trust and morale in groups.
But that is not always true, according to a new
study
published in the journal
Psychological Science
.
Robb Willer
, an associate professor of sociology, explored the nature of gossip and ostracism in experimental groups in collaboration with co-authors Matthew Feinberg, a Stanford University postdoctoral researcher, and Michael Schultz from the University of California - Berkeley.
Their research showed that gossip and ostracism can have very positive effects.
They are tools by which groups reform bullies, thwart exploitation of "nice people" and encourage cooperation.

Comment: Words like "gossip" and "ostracism" carry negative connotations, while in reality and throughout the history "gossip", or to be exact an exchange of information, was crucial for the survival of the community. The same is for "ostracism", which in ancient times was the most efficient way of cleaning the community from various pathologicals, who caused trouble and strife, and were no more than parasites. One even has to wonder why and since when such protective measures started to be considered as negative.


"Groups that allow their members to gossip," said Feinberg, "sustain cooperation and deter selfishness better than those that don't.
And groups do even better if they can gossip and ostracize untrustworthy members. While both of these behaviors can be misused, our findings suggest that they also serve very important functions for groups and society."