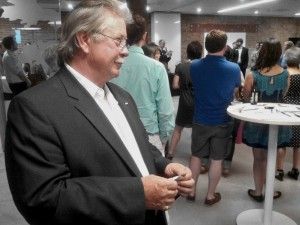 A general contractor in Colorado's Grand Valley, Duke Cox says the first time he became aware that drilling for gas might be a problem was back in the early 2000s when he happened to attend a local public hearing on oil and gas development.
A woman who came to testify
began sobbing as she talked about the gas rigs that were making the air around her home impossible to breathe.
"There were 17 rigs in the area, at that time," Cox says. "And they were across the valley, so I wasn't affected. But she was my neighbor." The incident led Cox to join the
Grand Valley Citizens Alliance
, a group of activists concerned about drilling policies in his area on Colorado's Western Slope. Within months he became the group's President and public face. And as fracking for gas became more common across the state, he has found more and more of his time taken up with the cause.
"We are ground zero for natural gas and fracking in this country," he says.
His claim is not hyperbole in many respects.
Scientists in Colorado are publishing alarming studies
that show gas wells harm those living in close proximity, and dozens of stories stretching back over a decade
have documented the ill effects
of natural gas drilling on Colorado's citizens.
In response to public unease, the state has created a
system
to report complaints of oil and gas health effects. The subject has become so acute that it consumes Colorado's politicians and electorate,
who have been squaring off on multiple ballot initiatives
to limit where companies can drill, in order to provide a buffer between gas wells and people's homes.
But there's one fact the industry would like to hide from the public (but uses in its lobbying of Congress): much of the drilling activity in Colorado would never happen were it not for generous tax subsidies.
Four years ago, the
American Petroleum Institute concluded
that gas development would fall dramatically in the Rocky Mountain region without certain tax breaks to make development economically viable. While precise figures for subsidies specific to Colorado are difficult to derive, a recent
report by Oil Change International
shows that subsidies to the fossil fuel industry continue to grow in value as the fracking boom has hit its stride.
At the national level, the report shows over $21 billion in federal and state subsidies that taxpayers provided to the fossil fuel industry in 2013. The use and value of these subsidies have increased dramatically in recent years - a product of the "all of the above" energy policy.
"They are profitable because of tax breaks," says Cox.