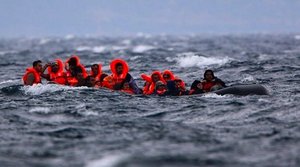 Co-founders of Team Humanity were arrested on the island of Lesbos after helping refugees from a sinking boat
Two Danish aid workers from the non-profit organisation Team Humanity were on Wednesday arrested on human trafficking charges on the Greek island of Lesbos, reports Information.
According to the organisation's chairman Walle El Ghorba, the two men, aged 26 and 33, are now sitting in custody awaiting a trial that could possibly see them get four years in prison.
El Ghorba told Information
the men were saving refugees from a sinking boat in the Aegean Sea
.