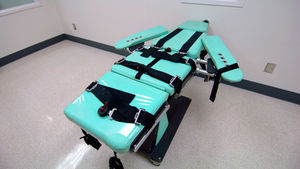 A federal judge has struck down the death penalty in California, declaring it unconstitutional due to lengthy delays in execution. The judge vacated the death sentence for a man condemned to die by the state nearly two decades ago.
US District Judge Cormac J. Carney, who was appointed by former President George W. Bush, heard the case of Ernest Dewayne Jones. The death row inmate was sentenced on April 7, 1995. He was convicted for the 1992 rape and killing of Julia Miller, his girlfriend's mother. The murder occurred 10 months after Jones was paroled for a previous rape conviction, the
Los Angeles Times
reported.
In his ruling released Wednesday, Carney noted the death row inmate faced
"complete uncertainty as to when, or even whether"
he would be executed.
"Allowing this system to continue to threaten Mr. Jones with the slight possibility of death, almost a generation after he was first sentenced, violates the Eighth Amendment's prohibition against cruel and unusual punishment,"
the judge wrote in his
decision
.