Although temperatures around the country have receded this week, many Australians no doubt are still having fever dreams of their country's recent skull-boiling weather. The past four months have been the hottest ever recorded on the continent, with a new countrywide high temperature on January 7 busting the mercury bulb at 104.6 Fahrenheit. (It wasn't much better that night, with A/C units struggling to compensate for 90.3-degree heat.)
But how far and wide did this steamy bulk of hotness spread? The folks over at NASA have revealed the answer in the form of a heat map, and it looks like this was truly a monster-sized "persistent and widespread heatwave event," as the
Australian Bureau of Meteorology
has dubbed it. Here it is, the surface-temperature anomalies for January 1 through 8 as observed by satellite: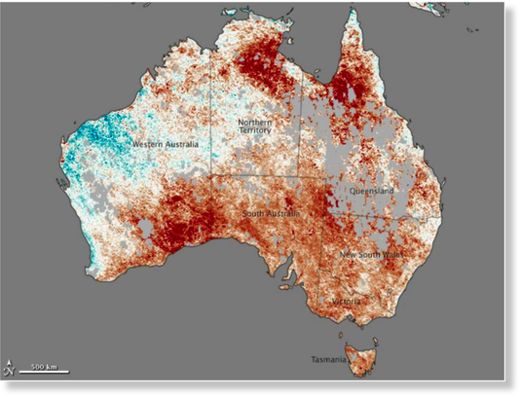 What this map is showing you is
Damn! That's some sweaty weather
. The darker red areas in the southwest and north show temperatures as much as 27 degrees above average for this time of year. The much scarcer blue patches, meanwhile, represent places that had abnormally low temperatures. Gray just means that a satellite couldn't collect data, which can happen if it's cloudy.
This January, much of the country has been locked into temperatures exceeding 113 degrees thanks to an atmospheric ridge that delayed the rainy season for several weeks. Sydney
hit
114 degrees last Friday, establishing a new high for the city in 150 years of record keeping; other historic firsts include 110.7 degrees in Wellington, 111.4 in Adelaide and at the charmingly named gas town of
Moomba
(you know, right between Innamincka and Strzelecki), a near-impossible-to-believe
reading
of 121.3 degrees.
Here's
another view
of the continent's hot spots from the Bureau of Meteorology. It's a map of high temperatures for the first two weeks of January (for you non-metric people, 44 Celsius equals 111.2 degrees Fahrenheit, 48 is 118.4, and so on):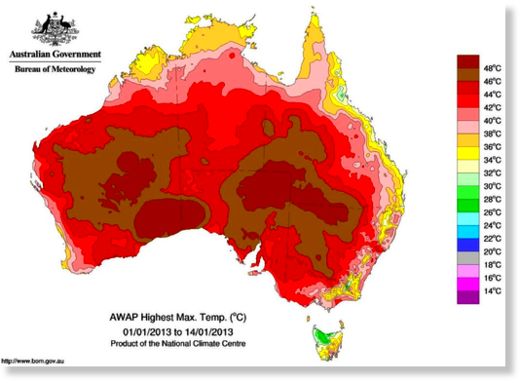 Should the phrase "climate change" be tossed into this discussion? Yeah, probably, said Australian governmental meteorologists last Friday at
The Conversation
:
Australia has always experienced heat waves, and they are a normal part of most summers. However, the current event affecting much of inland Australia has definitely not been typical.

The most significant thing about the recent heat has been its coverage across the continent, and its persistence.

It is very unusual to have such widespread extreme temperatures - and have them persist for so long. On those two metrics alone, spatial extent and duration, the last two weeks surpasses the only previous analogue in the historical record (since 1910) - a two-week country-wide hot spell during the summer of 1972-1973.
Meteorologists are warning that Aussies should prepare for warmer temperatures until the middle of March. That's a grim prediction, because this time of the season is when big bushfires have tended to break out. The past few cooler years have encouraged the growth of dense, fire-prone vegetation, so Australia is
big pile of tinder
waiting to go up in flames. (Or up even higher, given the incredible conflagrations of late.)
Some things to remember when we all look back on this beastly heat wave:
- It was so hot that Australia weather forecasters had to
add a new color
to their heat maps to show temperatures between 123 and 129 degrees;
- It was so torrid that all the moisture has been sucked out of the ground,
potentially decimating
Australia's grain production this year;
- It was so blistering that exhausted flying foxes (aka "megabats")
dropped from the sky
;
- It was so godawfully miserable that this footage of an orange alien glow-world is not hell, but Australia: