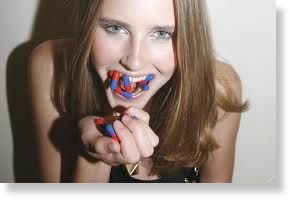 There is a disturbing pattern I'm seeing at work among the nursing staff and the nursing assistants - and these are the people who have the most direct interaction with patients and elderly residents at a healthcare facility.
What I'm noticing: there seem to be a growing number of people in these positions who are on psychiatric drugs. There isn't a day that goes by at work that some nurse or aide isn't discussing some new psychiatric pharmaceutical prescription she's just had filled. Today, one LPN (Licensed Practical Nurse) was telling me about how she is now taking Prozac. I asked her why (she knows how strongly I oppose the use of psychiatric drugs). Others are on more than one drug simultaneously. The result is that you can't even talk to these people. They're not in there, if you get my drift.
This LPN said she was opposed to taking the drugs for a long time, but a few days ago, she "raised a white flag".
Pretty vague response, but I know some background to this and so I also know that this has more to do with not wanting to 'cope' than with not being 'able' to cope. It has more to do with avoidable money problems and lack of self-control with spending than it does with not being able to 'cope' with life. It has more to do with poor choices and bad decisions and lousy judgement and overall laziness. It has to do with wanting to be high all the time, not just on the weekend.
I see this all the time at my job - and what's happening is, the personalities of these people on the drugs are changing over time - and not in a good way.
What I'm seeing also is that people are not being careful with their money and choose instead to blow it on stupid crap they don't need and can't really afford. The nursing staff where I work make a pretty decent wage for what they do. Yet, so many of them just fritter away their money and then, when the bills come, they're crying poor mouth and how stressed out they are. But they all have the latest, most expensive cell phones. They blow their money on fast food, expensive clothing, handbags, new vehicles, gym memberships, alcohol ... and pills.
Then the bills come, and next thing you know, they have some doctor writing out a scrip for Ativan or Prozac or Zoloft, etc. ...
I also notice that the majority of these nurses taking these drugs at my facility also like to party when they're not at work. And when I ask them if they notice the psych drugs having any effect on them, they say "yes". One nurse told me they help her to not get stressed out, another told me the drugs help her not to 'dwell' on her problems. (Yes, let's pretend the problem doesn't exist.) So, while the initial problem doesn't go away, they compound it by creating another problem. A drug dependency problem.
But since their kids are not on the drugs, this becomes a problem when the kid is still requiring attention and the pilled-up parent doesn't want to 'cope' with that 'issue' either. I can't tell you how many people I know who now feed these poison pills to their kids on a daily basis. Might as well keep that little zombie quiet and out of your hair, eh?
From watching and listening to these people talk about their problems and the drugs they're taking, the picture that begins to emerge is that there are people out there who are taking these drugs for the 'high' and also so they don't have to try and deal with their problems. Problems
they
themselves created in the first place by making idiot choices.
This is manifesting in a number of ways within the facility. Nurses and aides walking around like zombie people - the drugs are changing the way in which they interact with those around them. Including the patients and elderly residents.
Some blame the need for these drugs on inadequate finances or debt. Rather than learning how to effectively budget their money and avoid a crisis, they get on these pills, yet continue to spend spend spend, which makes the initial problem worse, in part, because now they also have to pay for the refills on their prescriptions. Plus, if you've noticed as I have, people who get on these brain poison pills seem to
stay
on psychiatric drugs - it's not some short-term 'fix' to their problem - in fact, the way it looks to me is, these pills are nothing
but
a chemical fix, a high that creates addicts who become dependent upon them just to 'maintain' some semblance of surface functionality in their lives. Quite a few of these people want to be high at work, and this is an 'acceptable' way to be high at work - because as long as the facility knows they're prescribed these meds, they can still work and it's okay if they're a zombie. They get a label of 'mental', which serves as their 'get out of jail free' card if they screw up - because you see, they have a prescription.
This is really disturbing. I see an increase in apathy toward patients and residents, an increase in health care workers being short-tempered, a general disinterest in what they're being paid to do, an increase in people not doing their jobs, and an increase in call-offs from work.
It all impacts the individuals in need of care.
I can't tell you how many times I've sat and listened to nurses and aides talking, comparing their psych drugs, bragging about having their dosage increased, or switched to another, or they're taking multiple psych drugs. They talk about these pills with the same level of enthusiasm with which women used to discuss shoes.
I suspect this is also 'trending' in other facilities and in hospitals - healthcare workers on drugs.
Some of these same people are also feeding their children psychiatric drugs - just so they don't have to deal with the root causes of behavioral 'problems', many of which, I suspect, would be resolved with a consistent and healthful change in the child's diet - but which requires the parents to actually take the time to work with the child, exercise some patience, and be consistent.
It's so much easier to get the doctor to write a prescription, so much easier to switch off and avoid dealing with issues. These drugs aren't helping people to cope. They're helping people to avoid coping. Rather than encouraging people to explore other strategies, the pill fix is in and it's getting way too 'popular'. And the result is that many of the people charged with taking care of your health, or the health and well-being of your elderly mother or father - are 'on' something.
I don't know about you, but I find this problematic.
The pill is the path of least resistance.
Instead of learning about alternative coping strategies or addressing that 'other' problem they don't talk about or won't admit about themselves, they mask what's really going on with claims of 'anxiety, depression, inability to sleep', inability to perform activities of daily living etc. ... I see this every single day at work. People who know just the right buzzwords to tell a doctor in order to get the desired prescription. They're laughing all the way to the pharmacy. I know, because I've watched them.
During the Great Depression, if you read historical accounts or talk to someone who lived through that time, people had it pretty damn rough. These brain poison pills weren't 'trending' back then. People were forced to do what apparently seems 'unthinkable' today: cope. Today, it seems like more and more people are allowing themselves to be convinced that they can't cope and using these 'excuses' to 'opt out' of even trying - and over time, the ones on these pills may be proven right - that they can't cope. The pills may ultimately ensure this to be so.
Who is getting better from taking all these psychiatric drugs? Do we ever hear about any of those people? Do they even exist?
I'm seeing an upswing in the number of pilled-up healthcare workers. I suspect that my facility isn't anomalous in this regard.
One more thing: What they call 'raising the white flag' used to be called something else back in the day: drug-seeking behavior.