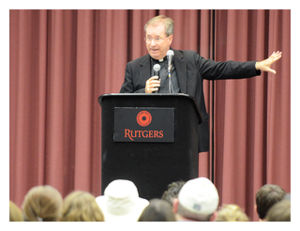 Rev. Gary Thomas, a Vatican-certified exorcist, spoke about practicing exorcisms, in which he attempts to drive demons out of someone's thought-to-be-possessed body.
"Satan has been defeated," Thomas told a multi-faith audience of 200 people in the Cook Campus Center.
He said in Catholic teachings, Jesus Christ's crucifixion signified the ultimate defeat of Satan, explaining the cross's prominence in the church.
Victoria Coglianese, secretary of the Catholic Student Association at the University, said members in her organization wanted to bring a speaker like Thomas to campus because they feel students are mature enough to handle the serious content of the visit.
"We really wanted someone that would attract a lot of people. The event holds a lot of history, [and is an] intriguing topic," said Coglianese, a School of Environmental and Biological Sciences junior.
Citing hope, confidence and thanksgiving as the central meanings symbolized in the cross and the Eucharist, Thomas said these show the positive forces that can counter demons in both the modern and the historic church.
Thomas said sins are a vessel for evil to enter the world.
The concept of sin grew unclear through time, he said, and it has become difficult to tell exactly what behavior is sinful.
Exorcism is primarily a healing ministry, said Thomas, who took anonymous questions submitted by the audience.
In the event that a person is deemed to be possessed, Thomas said when performing the solemn rite of exorcism, he always has a Catholic medical doctor, a clinical psychologist and a psychiatrist on hand.
Before performing the exorcism, Thomas said he interviews the candidate to find out the circumstances of their experiences.
Interview questions that are asked include topics such as a person's upbringing, home life, associations, habits, occult activity, religious practice and familial relations, Thomas said.
He said exorcisms should only be used as a last resort and could be dangerous to the psyche of Catholics, non-Catholic Christians and non-Christians if they seek an exorcism without needing one.
Eighty percent of those who seek out his help are victims of sexual abuse - a vessel for evil, he said.
Thomas said through his experience of being an exorcist, he found that 90 percent of those who seek out an exorcism are suffering from mental issues, rather than Satanic ones, which makes his work of discerning true possession more difficult.
He said an exorcism is a private ritual that aims to drive out the demons who cause suffering because Satan is antithetical to everything God represents.
"These are truths, these are not facts," Thomas said of his Catholic teachings.
Patrick Reilly, a chaplain at the University Catholic Center, said events like the Holocaust leave people with the notion that there are evil forces at play in the world.
"Most people have a sense of evil even if they struggle with faith," said Reilly, a School of Arts and Sciences senior.
In his closing remarks, Thomas said the goal of human life is to love and serve God to achieve eternal life.
He said people should practice vigilance in their lives to guard against evil and never live with fear.
"Don't be afraid," he said. "Be vigilant, be cautious, be faithful and don't be afraid."