Dragon
is expected to return near the end of October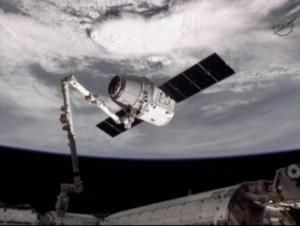 SpaceX is about to take another historical step for the private sector: its
Dragon
capsule will carry a load of supplies to the
International Space Station
(ISS) on its first official mission.
SpaceX's
Dragon
made its first trip to the ISS back in May of this year as a test run. All went well, with the
Dragon
successfully docking at the ISS and then splashing down into the Pacific Ocean.
Thanks to that successful run, SpaceX can now move forward with its very first official mission. The
Dragon
capsule will carry 1,000 pounds of supplies to the ISS on October 7, and plans to reach the orbiting station on October 10.
Dragon
will then spend a few weeks connected to the ISS while astronauts unload the supplies. They will then reload the
Dragon
with another 734 pounds of scientific supplies and 504 pounds of space station hardware to return to Earth. The plan is to send
Dragon
home near the end of October.
SpaceX currently has a $1.6 billion contract with NASA for 12 unmanned flights to the ISS.
Throughout 2011, NASA retired its remaining three shuttles in its space shuttle fleet:
Discovery, Endeavour
and
Atlantis
. By July 2011, all three had completed their final missions and ended an era of American space flight to the ISS. American astronauts were then forced to depend on the Russian
Soyuz
rockets to take supplies to the ISS, but increasing costs for a seat on these rockets pushed the U.S. to find another route.
NASA looked to the private sector to fill its shoes, and SpaceX was a superb candidate with its
Dragon
capsule and Falcon 9 rocket. SpaceX showed the world what the private space sector was made of in May 2012 when the Dragon made a successful maiden flight to the ISS.