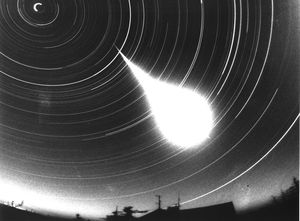 Early Thursday morning Jason Sarabia saw a bright meteor shoot across the sky.
The Frenchtown resident and his wife, Maria, were driving to the Clinton park-and-ride lot shortly before 6 a.m. when, after passing the Clinton A&P supermarket, he saw a green-tinged white ball of light burst across the sky in an easterly direction.
The flash, which lasted between four and six seconds, was as bright as a full moon, he said.
"If you were outside, you were going to see this," he said.
Sarabia wasn't alone. Witnesses as far north as New Hampshire and as far south as Delaware said they saw the fireball, a brighter-than-usual meteor, according to logs on
American Meteor Society
and
Latest Worldwide Meteor/Meteorite News
.
"I didn't see anything falling off of it or smoke," Sarabia said, adding that it was three times larger than the North Star.
It was likely unrelated to the annual Perseid meteor shower, which peaked Aug. 12.
Meanwhile on Saturday, Al Witzgall, vice president of the New Jersey Astronomical Association, will present
"Meteorites and You - A Guide to Stones from Space"
at the Aldrin Astronomical Center in Lebanon Township.