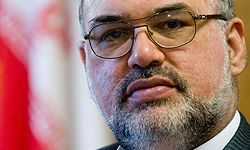 Iran and Russia lambasted the western and Arab states for their interferences in the internal affairs of Syria, and called on them to stop unconstructive acts in the Muslim country.
The issue was raised in a meeting between Iran's Ambassador to Russia Reza Sajjadi and Russian Deputy Foreign Minister Mikhail Bogdanov in Moscow on Wednesday.
During the meeting, the two officials stressed the need to solve the current crisis in Syria through negotiations and peaceful means.
In a meeting to discuss the latest developments in Syria, the diplomats also exchanged views on bringing the Syrian case to the Security Council of the United Nations.
Sajjadi and Bogdanov also stressed the need to prevent any foreign interventions in the internal affairs of Syria urging foreign states to stop making non-constructive moves in Syria.
They also called for an immediate stop of violation and any acts of terrorism in Syria which have, so far, only targeted civilians as the main victims.
Syria has been experiencing unrest since March 2011 with organized attacks by well-armed gangs against Syrian police forces and border guards being reported across the country.
Hundreds of people, including members of the security forces, have been killed, when some protest rallies turned into armed clashes.
The government blames outlaws, saboteurs, and armed terrorist groups for the deaths, stressing that
the unrest is being orchestrated from abroad
.
In October 2011, calm was eventually restored in the Arab state after President Assad started a reform initiative in the country, but Israel, the US and its Arab allies are seeking hard to bring the country into chaos through any possible means.
Tel Aviv, Washington and some Arab capitals have been staging various plots in the hope of increasing unrests in Syria
.