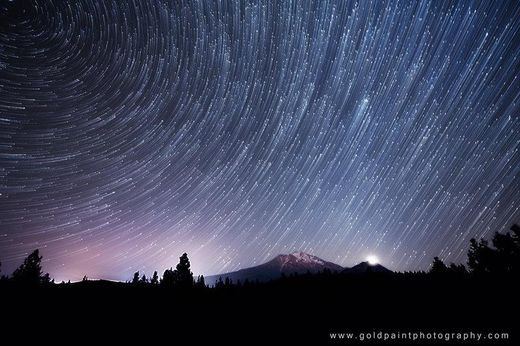 Time-lapse is one of the hottest trends in photography nowadays, thanks in part to the wider availability of high-end cameras, high-resolution video and high production values. But you need some high-class talent behind the lens as well.
It doesn't hurt that the past year has been a gold mine for the glories of the night sky, especially the northern lights. We've featured quite a few time-lapse videos of the aurora, as seen from Earth and from space, and you can click through a few of our favorites below. The latest stunner to surface comes from photographer Brad Goldpaint, whose work we featured just a few days ago.
Goldpaint's three-minute time-lapse, titled "Within Two Worlds," features three years' worth of sky imagery collected from a variety of locales - including the Three Sisters Wilderness, Crater Lake and Sparks Lake in Oregon as well as Mono Lake and Mount Shasta in California.
"I discovered my passion for photography shortly after my mother's passing while hiking the Pacific Crest Trail three years ago," Goldpaint writes. "This time-lapse video is my visual representation of how the night sky and landscapes co-exist within a world of contradictions. I hope this connection between heaven and earth inspires you to discover and create your own opportunities, to reach your rightful place within two worlds."
For more of Goldpaint's perspectives on the two worlds, check out the Goldpaint Photography website, or his Facebook or Google+ page. But before you do that, click into the video below and turn it up to full-screen resolution.