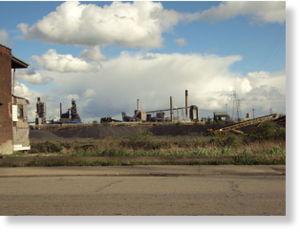 Zug Island seems to be the source of a mysterious noise that's shaking windows and keeping Windsor residents up at night, Canadian officials said Thursday.
A two-month investigation by seismologists from the Ontario Environment Ministry traced the source of the noise to within roughly a half-mile of the island, officials said.
"We have seen the results now and the results are conclusive that the source of the noise and vibration is ... in or around Zug Island," said Teri Gilbert, a spokeswoman for the Canadian agency. "We did a considerable amount of work to determine whether there was a source in Ontario and we couldn't determine that."
Complaints about the noise started in March and have steadily been pouring in, officials said.
"It goes through some sporadic bursts. Sometimes you can hear it more prominently than other times," said Al Maghnieh, a city councilor in Windsor. "It's something that's been disturbing quality of life for residents in southwest Windsor."
Since Canada has no jurisdiction over Zug Island, officials have reached out to River Rouge Mayor Michael Bowdler to find the source of the problem and fix it.
"The mayor has confirmed to us that he's taken the information seriously and he's developing a plan to pinpoint the noise," Gilbert said.
Strangely enough, some residents on the U.S. side haven't felt or heard any of the noise.
"If it's constant, I might not even hear it," said John Gascoigne, 63, who lives less than a mile from the island. "You always have noise here. You just get used to it."
However, other Detroit residents said the noise has been around for years. "When it rumbles, it shakes the whole house," said Deborah MacLeod, 57, who lives near the island. "It sounds like a train passing by."