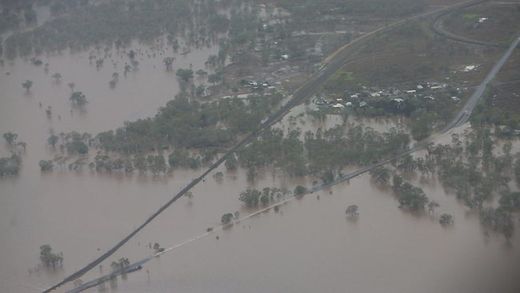 The central Queensland city of Gladstone faces a one-in-100-year flood, and up to 1600 homes near Brisbane could be inundated as extreme weather hits.
Storm tides, extremely heavy rain and emergency dam releases have combined to present the state with its worst weather event since 2011.
Emergency flood alerts have been issued for several Queensland towns overnight with residents being told to get to higher ground.
Residents of
Gladstone
, on the central Queensland coast, were asked to prepare their properties on Saturday morning after being advised that flood levels along the Boyne River would exceed one in 100 flood levels on the morning high tide at 8.45am (AEST).
Residents at
Callide Creek,
600km north of Brisbane, were urged to move to higher ground at the nearby Jambin Hall as a flood release from the Callide Dam was tipped to reach 1.5 metres.
People in the coastal towns of
Toorbul
and
Meldale
, between Brisbane and the Sunshine Coast, were meanwhile issued with a watch and act notice, with the Department of Community Safety warning the communities are likely to be affected by a dangerous storm surge caused by ex-tropical cyclone Oswald at 9am.
The Saturday morning storm tides are also expected to put up to 1600 homes in danger of being inundated in the coastal Moreton Bay region, north of Brisbane.
Moreton Bay Regional Council Mayor Allan Sutherland said on Friday night the council and SES were door-knocking homes in some of the areas at greatest risk.
"These potentially dangerous storm tides are associated with the ex-tropical cyclone Oswald which could also dump up to 400mm of rain on the Moreton region this weekend," the mayor said in a statement.
Sand and sandbags are available for areas potentially affected by storm tides at SES depots on Bribie Island, at Deception Bay and Redcliffe, he said.
The Bureau of Meteorology has issued a severe weather warning for the area this weekend with damaging winds, heavy rainfall, abnormally high tides and dangerous surf conditions.
It says tides are expected to be almost a metre higher than those listed on tide charts.
Meanwhile, a 22-year-old man who had been stranded for 24 hours by flooding on a roadside in Queensland's northeast was plucked to safety by a helicopter on Friday night.
The man had been driving from Charters Towers to Mackay when his car became bogged, before rising floodwater left him stranded on the side of Suttor Development Road around 5pm on Thursday, the RACQ said.
The man couldn't be reached by road rescuers, so the RACQ CQ Rescue helicopter was sent to his aid just before 5pm on Friday.
Former cyclone Oswald has been causing flooding across the state since Tuesday, when it crossed Cape York Peninsula's west coast and was downgraded to a low-pressure system.
Many Australia Day celebrations have been cancelled across the state due to the extreme weather.
Earlier
With 300mm of rain forecast to soak the region today and tomorrow, Premier Campbell Newman yesterday gave the order for just under 50,000 million litres to be drawn from Wivenhoe and North Pine Dams, a three per cent reduction.
With ex-Tropical Cyclone Oswald drenching north Queensland, it is the southeast's turn to receive a bucketing as the low creates flash flooding from the Sunshine Coast to the New South Wales border.
In central Queensland, swiftwater rescue teams made 20 rescues including plucking eight people to safety after their car was swept off the Capricorn Highway and a teenager was saved from a ranging torrent by swift water rescue teams.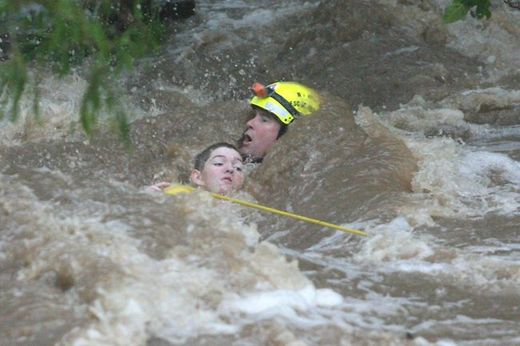 With the heavy weather expected to set in until at least tomorrow night, Premier Newman made the call to release water from Wivenhoe and North Pine dams.
Starting late yesterday, 41,000 million litres was being let out of Wivenhoe Dam, and 8000 million litres from North Pine - less than a quarter of what was being released every day in the lead up to the January 2011 floods.
But a cautious Premier admitted the releases were more about offering peace of mind to flood-scarred residents, than out of necessity.
The releases will lower the level of Wivenhoe to about 88 per cent - down from 91.6 per cent - and occur at a rate of about 300 cubic metres a second.
Mr Newman revealed the decision to let the drinking water out was essentially his and Water Supply Minister Mark McArdle's, rather than at the urging of dam engineers.
"I'm happy to say as Premier, (and) a former Lord Mayor, and Mr McArdle as a Minister in this government . . . we're not just sitting there waiting to be given advice, we're actively considering the matter," Mr Newman said.
"We are letting them (Seqwater) know that we totally support proactive measures to increase the buffer that's available, and I'm more than happy to say that."
His order came as lives were feared lost in Central Queensland after Oswald dumped 349mm of rain on Rockhampton, smashing a 40-year-old record.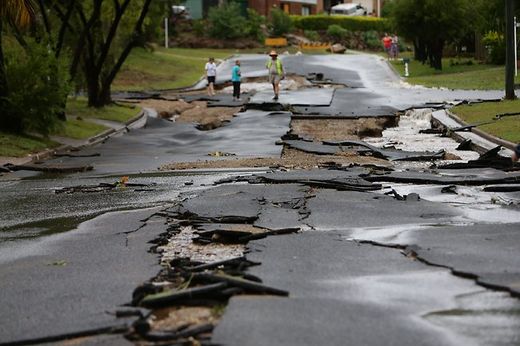 In Gladstone, where more than 600mm of rain fell in two days, sewage bubbled into the streets but Mayor Gail Sellers said it was not a health risk.
"We've got so much water here, it's so diluted, it's not a health risk and we're dealing with it," she said.
The city's harbour has been closed, the region's national parks are shut and Gladstone's Australia Day celebrations have been cancelled.
Mr Newman said while most people would "sadly fixate on issue of the river" the real risk in Brisbane was suburban creek and stormwater drain flooding.
He said the release of water was designed to make people feel "more comfortable and secure in relation to dams and their management".
"At the moment, all the information I have is even without this measure (water release) we'd have enough in that 1.4 million megalitre flood storage compartment to take what's coming. That's the advice we have at the moment," Mr Newman said.
Mr McArdle said the aim was "to protect people and the property of southeast Queensland by making certain the dams were at their most efficient".
A decision was taken in November not to reduce southeast Queensland dam capacity to 75 per cent but leave it at 100 per cent because of the forecast of a dry summer.
Brisbane Lord Mayor Graham Quirk announced yesterday pre-filled sandbags would be available all weekend at council depots at Darra, Morningside, Virginia and Newmarket for anyone concerned about flooding.
He said BCC was hopeful the city would be spared the worst of the bad weather but residents should nevertheless remain vigilant - particularly in low-lying zones around the Norman, Bulimba, Breakfast/Enoggera, Stable Swamp/Oxley and Cabbage Tree Creek catchments and the Zilman Waterhole at Boondall.
"This is not to alarm people but simply to say we are on full alert," Cr Quirk said.
Ipswich Mayor Paul Pisasale warned of the potential for flash flooding in the Bundamba and Woogaroo Creek catchments but said the dryness of the area meant they were not expecting major problems.
With the Gold Coast predicted to be hardest hit by the weather "bomb", the city council activated its disaster management centre.
Co-ordinator Peter McNamee said hinterland creeks and causeways were the main concern and the situation was "highly unpredictable".
Campers on Fraser Island could also be at risk from heavy rain, with 3000 booked for the Australia Day long weekend and high tides likely to affect movement along the beaches.
Emergency Services Minister Jack Dempsey has embarked on a tour of rain-deluged communities from Rockhampton south, but Mr Newman said there was no need for him to personally visit those areas.
"At this stage no, because as you've heard the issue has generally been controlled quite well.
"If I see this thing get more serious I can assure people I will be getting out and about," Mr Newman said.
Reporting by Greg Stolz, Robyn Ironside, Tuck Thompson, Andrew MacDonald, Peter Michael, Rose Brennan, Rikki-Lee Arnold and AAP