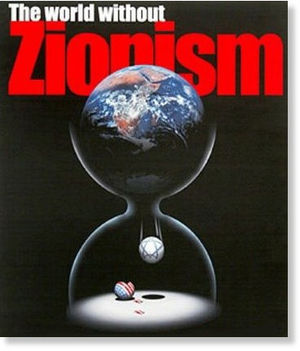 Before leaving for work this morning, I posted
a report
on my FB profile about the
Estelle
, a humanitarian aid ship en route to Gaza, which was surrounded and stopped by the Israeli military, having come so close to its final destination.
In the report, I read the following comment made by a Senior Israeli Defense Ministry official:
"He denounced the activists as 'provocateurs who are driven by hatred for Israel' and dismissed the 'humanitarian crisis in Gaza' ..."
We are constantly subjected to similar language coming from the Israeli political leadership regarding who 'hates' Israel. According to the mouthpieces for the Israeli
crime syndicate
'government', if we were to actually believe what they tell us, then we would believe that all the world 'hates' Israel. Israel's propaganda machine has been saying the exact same thing - that this or that one 'hates' them - for the whole of my life to date - and for far longer than I've been alive.
I was thinking about the
Estelle
this morning on my walk to work. I thought about the
Mavi Marmara
aid ship attacked by Israeli forces in 2010, in which several activists were killed and others were injured. I thought of the people of Gaza, waiting with hope for the arrival of
Estelle
today, only to have that hope stolen from them once again. I thought of the
Estelle
crew, seized at sea, branded as 'threats to Israel', and imagined how they must be feeling right about now.
I thought of the siege on Gaza, and what has been done to the people of Palestine over the last several decades, and my mind began to think other thoughts too, about this world we live in and the people of this planet - and wondered WHY the world allows this to continue. WHY are the various governments of the world allowing this to continue? WHY aren't all these forces uniting to break this blockade once and for all? WHEN will it all end? I thought, too, of the government I'm supposed to call my own, the U.S. government, and how it enables the Israeli government to perpetrate crimes against humanity with American tax dollars - and in my heart, I know I will never respect either of these crime syndicates posing as governments.
Yesterday, yet another American 'reminded' me that I'm supposed to 'respect the flag of my country'. I no longer recognize this flag as legitimate and no longer call this my country. I don't even recognize 'my country' anymore. It's become something monstrous and alien to me, by degrees, over time. 'My government' perpetrates mass murder with impunity and assists the Israeli government to engage in the same thing, with working Americans footing the bill. If the average voting American also had to mop up all the blood being shed at the hands of these two 'governments', I wonder how many people we'd see flocking to the polls to cast their vote in the fake election.
We hear the same language looping over and over, this Zionist bellyaching about how the world 'hates' Israel and Israel needs to 'protect' itself. We hear it all the time and we've listened to it for decades. Over and over and over again. Just like the perpetual war, with its indiscriminate killing and commercials, the propaganda also never seems to end.
I guess the Israeli government would have the world ignore its crimes against humanity. It prefers for the world to pretend that human lives aren't being snuffed out by airstrikes, tanks, bulldozers, jackboots and bullets. Israeli leaders would rather we not look at the photos of Palestinian children with bullet holes in their chests and their heads caved in, lying buried in rubble. They'd prefer we disregard the enormous number of photos of the mangled bodies, the burnt and charred remains, the maimed, the blinded, the Palestinian dead. Elderly. Children. Infants. Young and old men and women, blown to bits and pieces, teargassed, bullied, beaten, and chased in the streets.
The IDF hunts Palestinians as the world watches. This is the psychopath version of Reality TV.
The Israeli government (like our own) would have us steel ourselves and harden our hearts when we view video footage of demolished homes, and we should overlook Israeli settler abuses of Palestinians and the vandalism, arson, and violation after violation of legitimate Palestinian property rights. We're expected not to notice the footage of unprovoked violence, of public beatings and humiliations, the photographs of children being manhandled by well-armed soldiers, their heads slammed to the ground and women being attacked by groups of Israeli settlers in full view of Israeli soldiers, who stand watching and do nothing to stop the violence against Palestinians. The wailing of widows and the thousands of fatherless children left behind to try and grow up in this killing field was never meant to reach the ears of the world, but it has.
We're not supposed to keep noticing that young and old alike are fair game in these ongoing attacks. We're not supposed to care about the Palestinians or what happens to them. We're supposed to only give a damn about Israel. Because, apparently, we're also supposed to believe that Israel is all that matters, and to hell with the rest of us on this spinning ball of pud.
The Israeli and U.S. governments and the Zionist media spin machine want the world to think and feel nothing about any of the above, except acceptance. No matter what Israel and the U.S. government do, the world is just supposed to close its eyes, plug its ears, remain silent and ... turn away from the noise.
There's nothing to see here, move along now.
For those of us who are paying attention, we're supposed to 'understand' that all these Palestinian arrests, imprisonments, the torture, intimidation, restriction of movement, denial of basic human needs and natural human rights are 'reasonable'; we're to buy into the BS that those who have been injured and scarred for life deserved it; and that the growing Palestinian body count is 'necessary, justified and of no consequence' - because you see, it's all collateral damage - and Israel must protect itself in any way it sees fit - from 'terrorists'. Even if the alleged terrorist is two years old and can't even pronounce the word 'terrorist'. Even if the 'terrorist' is not a terrorist at all. We're all supposed to believe this, because both the U.S. and Israeli 'governments' want and need us to believe it. Psychopaths need for us to believe what they say without doubt or question. This is what gives them power and strength: our collective, blind, unquestioning belief.
The group of people sailing aboard the
Estelle
are not terrorists - they're normal human beings trying their damndest to help another group of people who are in great, great need, to survive. Why did they try to break the blockade?
Because they care
. Because the governments of the world have not stepped up and acted to stop Israel's siege on Gaza. Because everyday people feel compelled to fill that void, to step into that role, because our governments may act like 'Big Brother', but they sure as hell have proven to us that they aren't our heroes.
Palestinians are starving for this help, starving for the world to notice and acknowledge what is happening to them, starving for their right to be free, starving for their right to exist, starving for the world to recognize that this is our collective struggle, starving for real - and they testify to this, through resistance, through their tears and their smiles, their songs and their dance, with hunger strikes and protests, determined to be heard, and to survive, and to survive in spite of those that are hell bent upon their erasure from the planet.
The world sees this determination, this resolve, and the indefinable courage in the eyes of every Palestinian man, woman and child, and we see it in the dirty clutching hands of small boys hurling rocks at ferocious Israeli military tanks.
For all the Zionist-inspired propaganda and the incessant spinning and omission of objective facts (truth) from mainstream media news, the Zionist machine has (mostly) failed to convince the average human being in this world that there exists any 'right' to engage in genocide and ethnic cleansing. They can call it whatever they choose, they can act like they don't care what we see, what we think or what we know, they can keep pretending that the world isn't seeing what the world
is
seeing: an ongoing campaign of violence, expansionism and aggression to dehumanize and deny the Palestinian people, by the military occupier of Palestine, who calls itself 'Israel' and its strategic ally, the United States government - both of which are crime syndicates.
Is this what the world is supposed to love? This coldblooded capacity for population branding, slicing a dividing line between people through segregation and apartheid, dehumanization, the unrelenting wreaking of destruction? Are we to love the inflicting of tremendous psychological and emotional trauma, and for mercilessly inflicting physical harm upon innocent people, and for searing deep and permanent scars upon your victims? Is the world supposed to 'love' this psychopathic 'talent' for perpetrating mass murder that the U.S. and Israeli forces put on display for the world to see?
As I walked to work, a question popped into my head - a question for the Israeli government, the Israeli Defense forces, and for the Zionist Spinmeisters.
What, exactly, are you doing in this world,
for
this world, that the world can love?
I want to know.