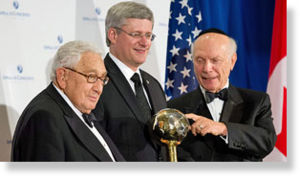 New York - Prime Minister Stephen Harper called on the international community Thursday to do more to "step up pressure and isolate" Iran, which he labelled a regime "where evil dominates."
Shunning an opportunity to speak at the opening of the United Nations General Assembly, Harper delivered his attack on Iran after receiving the World Statesman Award from the New York-based Appeal of Conscience Foundation (ACF) .
He targeted Iran as a country that constitutes "unambiguously a clear and present danger" to the world both for its pursuit of nuclear weapons, its support of terrorism and its threat to the existence of Israel.
Harper, who recently closed Canada's embassy in Tehran and expelled Iranian diplomats from Ottawa, assured an audience that included former U.S. secretary of state Henry Kissinger and several prominent ACF donors that he is not advocating war.
"I say these things not to counsel any particular action, not to wish any additional hardship on the long-suffering Iranian people and certainly not to advocate war, but rather so that we not shrink from recognizing evil in the world for what it is," he said.
He called Iran's human rights record "appalling" and said its Islamic regime has a "truly malevolent ideology."
Harper also used the annual ACF fundraiser to condemn the anti-American riots around U.S. embassies and the attack on the American consulate in Libya that killed four Americans including the U.S. ambassador.
He claimed that since the war of 1812 the fact that Canada has "lived in secure peace and growing prosperity for almost two centuries is a testament to the enduring strength and essential benevolence of the United States of America."
He also reaffirmed Canada's support for Israel, criticizing other governments for using the United Nations as an "international forum to single out Israel for criticism."
"It is important to state, that whatever Israel's shortcomings, neither its existence nor its policies are responsible for the pathologies present in that part of the world," he said.
Despite its billing as a "major international policy address", Harper's speech was filled with broad statements about the need to protect democratic and humanitarian values. He offered no proposals for further actions against Iran to stop it from obtaining nuclear weapons. Iran claims its nuclear program is peaceful.
Former prime minister Jean Chretien received the award in 2002.
After the ceremony, Kissinger said in an interview that he spoke with Harper Thursday morning and found their talk "very educational." He said he supported Harper's decision to close Canada's embassy in Iran.
"I think his basic attitude toward Iran is one that will help bring about a solution, because unless Iran is isolated and without support, it won't take the steps that it needs to take in order to avoid some of the greater difficulties," he said.
Harper's decision to travel to New York to receive the award but not speak at the opening of the United Nations General Assembly drew criticism in Ottawa from opposition leaders.
Liberal Bob Rae called it "absolutely ridiculous."
"He missed an opportunity to express himself clearly ... as leaders from around the world have done," he said in a scrum. "I think the message is that Canada, that the Harper government doesn't care about the United Nations."
Paul Dewar, NDP foreign affairs critic, said Harper treats the UN "as something that is more of an irritant, frankly, than a constructive place for finding solutions to very complicated problems."
World leaders have been arriving here all week to address the opening session. The Waldorf Astoria Hotel, where Harper received the award, is filled with secret service agents and surrounded by police guarding these leaders.
This is the second year in a row he has shunned the opening, preferring to send Foreign Affairs Minister John Baird in his place.
U.S. President Barak Obama took time off this week from a busy campaign schedule to deliver a speech. Britain's David Cameron, France's Francois Hollande and Italy's Mario Monti were among many other leaders who spoke.
Still, Harper used the UN opening to meet with several leaders. He met Thursday morning with Haiti President Michel Martelly where they discussed progress in strengthening the embattled country's governance, democratic institutions and economy. Canada is Haiti's second largest donor with more than $1 billion in assistance since 2006.
Harper went to the United Nations Thursday afternoon where he met with Mahmoud Abbas, president of the Palestinian Authority. The two men discussed the Middle East peace process as well as Syria and Iran. Harper is scheduled to meet Friday morning with Israeli Prime Minister Benjamin Netanyahu to discuss the same issues.
Kissinger presented the award to Harper. The ACF statement said Harper received the award "as a leader of integrity who has earned the respect of his people, for his commitment to democracy, freedom, human rights and peace in the service of humanity."
This may mystify his critics in Canada who have accused him of weakening Canada's democracy by pushing omnibus bills through Parliament, by locking his government behind a wall of secrecy and by defunding institutions dedicated to the promotion of democracy.
The ACF was started in 1965 by Arthur Schneier, a prominent New York rabbi, to promote religious freedom, human rights and tolerance.
Source:
Postmedia News